This is Not the End: Conversations on Borderline Personality Disorder (Paperback)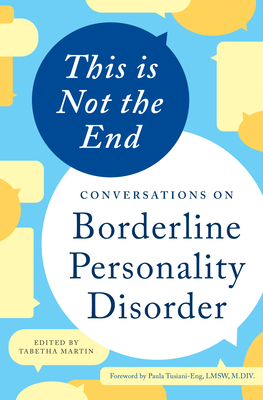 List Price: $16.99
Our Price: $14.44
(Save: $2.55 15%)
Description
---
"I fight because it's not over. It doesn't end here."

In this unique collection, individuals of all ages and stages share their experiences with Borderline Personality Disorder (BPD). Within these pages, you'll find an honest portrait of what it's like to live with BPD, from the perspective of people with BPD and their loved ones—spouses, siblings, and parents, as well as mental health professionals.

By turns heartbreaking and inspiring, this collection of real-life stories, personal essays, and candid interviews explores what a Borderline Personality Disorder diagnosis looks like—from the inside. Also featuring an in-depth overview of BPD and its common treatment methods, this book is a necessary tool for expanding your self-exploration and deepening your understanding of this confusing and often destructive disorder.

Edited by mental health advocate Tabetha Martin and featuring a foreword by Paula Tusiani-Eng, co-author of the classic BPD memoir Remnants of a Life on Paper, This is Not the End: Conversations on Borderline Personality Disorder provides encouragement and support for all who are seeking to heal and recover from BPD.
About the Author
---
While caring for a family member who lives with BPD, TABETHA MARTIN earned her BA in psychology from California State University, San Marcos, where she won an award for her thesis on the struggles of BPD. She manages the Borderline Personality Disorder Awareness Page on Facebook, which reaches tens of thousands of individuals each day. Currently, she is working toward completing her master's of social work and establishing a full-service mental health program for women living with BPD and other mental disorders.

Writer and BPD advocate PAULA TUSIANI-ENG is the co-author (along with her mother) of Remnants of a Life on Paper, which shares the struggles her sister faced with BPD. Paula holds a master's in social work from Adelphi University, and serves on the Board of the Borderline Personality Disorder Resource Center at New York-Presbyterian Hospital.