Child Space: An Integrated Approach to Infant Development Based on the Feldenkrais Method (Paperback)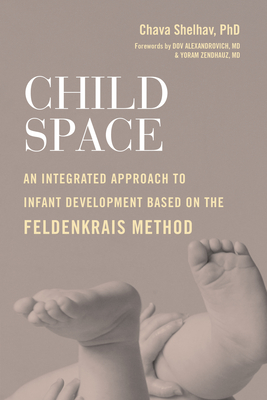 List Price: $21.95
Our Price: $18.66
(Save: $3.29 15%)
Description
---
A pioneer in the Feldenkrais movement draws on her extensive experience to offer somatic education practitioners a new perspective on infant development

When should my baby be walking? Should I worry if they are not talking yet? What can I do to help my baby in their development? Dr. Chava Shelhav draws on her forty years of experience in the Feldenkrais movement to offer answers using her holistic approach to child development for practitioners, parents, and caregivers. Child Space describes Shelhav's unique method for assisting babies in achieving specific developmental milestones at the appropriate time, including physical skills, language, social skills, emotional attunement, and cognitive development. A baby's natural curiosity and innate desire to learn is stimulated through movements, games, and toys. Methods of touch provide the deep stimulation a baby needs to sense parts of their body, creating the awareness required for mastering motor skills, balance, and coordination. Also covering the importance of nutrition in the beginning years of a child's life, this book presents new perspectives and techniques that will benefit healthcare professionals like pediatricians, family and child therapists, and physical therapists working with infants.
About the Author
---
CHAVA SHELHAV, Ph.D., was born in Israel on January 31, 1940. As one of Dr. Moshe Feldenkrais's first students, she was one of the first group of 13 Feldenkrais teachers that he trained in his system of improving human functioning.

Dr. Shelhav received her masters at Boston University and her doctorate from the University of Heidelberg. Working in the Departments of Sociology and Life Sciences, her thesis examined the effects of the Feldenkrais Method on learning processes and other aspects of childhood. She has published a number of books in Hebrew, English, and German.

Dr. Shelhav has served as educational director for 30 four-year Feldenkrais Professional Training Programs in Israel, Germany, the United States, and the UK. In Israel, she has taught the Feldenkrais Method at Seminar Hakibbutzim, the Wingate Institute, the Asaf Harofe Medical Center's Department of Complementary Medicine, and at child development centers. In Germany, she heads Feldenkraiszcentrum, an institute that trains teachers in the Feldenkrais Method.

Dr. Shelhav is currently training Child'Space practitioners through programs in Israel, Germany, the Netherlands, and the United States. She has a private practice in Tel Aviv.
Praise For…
---
"A fresh, holistic perspective on the connection between motor development, emotion, and cognition. A must-read for any parent or therapist who wants to gain a deeper understanding of early childhood development."
—Tali Marron, child psychologist and brain and creativity researcher