The Practice of Embodying Emotions: A Guide for Improving Cognitive, Emotional, and Behavioral Outcomes (Paperback)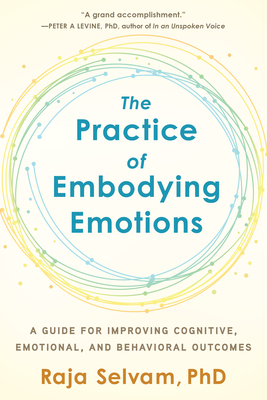 List Price: $21.95
Our Price: $18.66
(Save: $3.29 15%)
Warehouse, In Stock | Usually Ships in 1-5 Days | New
Description
---
"A grand accomplishment." —Dr. Peter Levine, developer of Somatic Experiencing® and author of Waking the Tiger and In an Unspoken Voice

A body-based, science-backed method for regulating behavior, thoughts, and feelings and improving well-being--shown to shorten therapy time and improve emotional outcomes.


In the first book on Integral Somatic Psychology™ (ISP), clinical psychologist Dr. Raja Selvam offers a new, complementary approach for building more capacity to tolerate emotions using the body--especially emotions that are difficult or unpleasant.

The ISP model shows readers how to expand and regulate emotional experiences in the body to improve different therapeutic outcomes--cognitive, emotional, behavioral, physical, energetic, relational, and even spiritual--in life and in all types of therapies, including other body psychotherapy and somatic psychology approaches. You will learn the physiology of emotions in the brain and body and how to:




Access different types of emotions quickly
Facilitate embodiment and regulation of feelings
Process and heal different traumas and attachment wounds

A go-to guide for emotional integration, The Practice of Embodying Emotions is of value in the treatment of a wide range of clinical problems involving difficult emotions--from ordinary life events to psychosomatic or psychophysiological disorders, developmental trauma, prenatal and perinatal trauma, attachment disorders, borderline personality disorder, complex PTSD, collective trauma, and intergenerational trauma--and in improving outcomes and shortening treatment time in different therapies including psychoanalysis, Jungian psychology, and CBT (Cognitive Behavioral Therapy).
About the Author
---
RAJA SELVAM, PhD, is the developer of Integral Somatic Psychology (ISP), an approach based on the paradigm of embodied cognition, emotion, and behavior in cognitive and affective neuroscience. He is a licensed clinical psychologist and a senior trainer in Dr. Peter Levine's Somatic Experiencing program. Dr. Selvam has taught for twenty-five years in the Americas, Europe, Asia, the Middle East, and the Far East. His work is influenced by psychoanalytic approaches, Jungian psychology, body psychotherapy systems, bodywork and energy work schools, yoga, quantum physics, and Advaita Vedanta. Selvam's publications include the 2013 "Jung and Consciousness," published in Spring; the 2008 study "Somatic Therapy Treatment Effects with Tsunami Survivors," published in Traumatology, about working with survivors of the 2004 Indian Ocean tsunami. His approach is also inspired by the work he did in Sri Lanka from 2012 to 2014 for the survivors of the thiry-five year civil war.

Praise For…
---
"A grand accomplishment."
—Peter A. Levine, Ph.D., developer of Somatic Experiencing® and best-selling author of Waking the Tiger and In and Unspoken Voice

"A knowledgeable and skilled exploration of emotion and the body—and how to process and heal emotional wounds efficiently through the body."
—JACK KORNFIELD, PhD, author of A Path with Heart

"Ripe for our times! This brilliant book sheds light on the vital importance of fully embodying emotions, whether painful, pleasurable, or in-between. As a couples' therapist and a child advocate for mental health, I experienced this book as a joyous godsend."
—MAGGIE KLINE, LMFT, Somatic Experiencing faculty member and author of Brain-Changing Strategies to Trauma-Proof Our Schools

"This book ... is a must for all therapists who work with attachment and for those looking for a self-help approach to improve their relationships."
—DIANE POOLE HELLER, PhD, author of The Power of Attachment and creator of DARe Training

"I highly recommend [this book] to all therapists and those who are serious about their personal and spiritual growth."
—LISBETH MARCHER, founder of the Bodynamic Somatic Developmental Psychology System, coauthor of The Body Encyclopedia, and former president of EABP 

"Every page of this book conveys depth, clarity, and substance."
—GLEN SLATER, PhD, cochair of the Jungian and Archetypal Studies Program at Pacifica Graduate Institute

"... the perfect combination of science, historical and cultural context, client case examples, and presentation of a well-articulated, innovative model."
—KATHY L.KAIN, PhD, coauthor of Nurturing Resilience

"Don't miss this book! The concept of sensorimotor emotions is a unique and much-needed contribution
to the field of human consciousness."
—IAN MacNAUGHTON, MBA, PhD, psychotherapist and author of Body, Breath & Consciousness

"... a timely and necessary refinement to the practice of somatic psychology."—MAUREEN GALLAGHER, PhD, licensed clinical psychologist, certified psychoanalyst, Somatic Experiencing® faculty member, Inner Relationship Focusing Trainer, and EFT Certified Supervisor

"Rooted in science and the author's depth of experience and capacity for integratingmultiple disciplines, [this book] contains practical, comprehensive information and illuminating case examples." 
—TINA STROMSTED, PhD, LMFT, LPPC, RSME/T, Jungian psychoanalyst, somatics educator, and director of Soul's Body® Center 

"This brilliant book ought to become required reading for all psychoanalysts and therapists involved in trauma treatment."
—MARGRET OVERDICK, psychoanalyst, psychotherapist, trauma therapist, and specialist in pre- and perinatal psychological trauma treatment

"[This book] ... is a 'game changer' in the field of trauma therapy, and I personally rate it five out of five."
—WILLIAM R. EMERSON, PhD, psychologist, winner of a US National Science Foundation Award, and author of Treatment of Birth Trauma in Infants and Children