Patterns of Power, Grades 6–8: Inviting Adolescent Writers into the Conventions of Language (Paperback)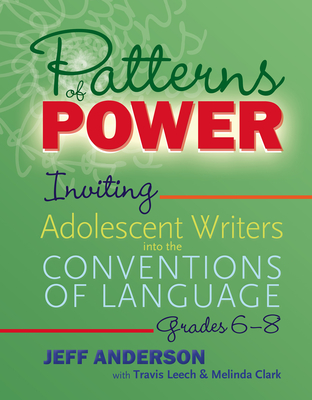 This item is backordered and not currently available. Please contact us for an estimated availability date.
Description
---
Authors Jeff Anderson, Travis Leech, and Melinda Clark lead a vibrant approach to grammar instruction in
Patterns of Power, Grades 6-8: Inviting Adolescent Writers into the Conventions of Language. 
Here, young, emergent writers are invited to notice the conventions of the English language and build off them in this inquiry-based approach to instructional grammar.
The book comes with standards-aligned lessons that can be incorporated in just 10 minutes a day.
Patterns of Power's
responsive, invitational approach puts students in an involved role and has them explore and discuss the purpose and meaning of what they read. Students study short, authentic texts and are asked to share their findings out loud, engaging in rich conversations to make meaning.  
Inside you'll find:
Ready-to-use lesson plan sets that include excerpts from authentic and diverse mentor texts curated for grades 6-8
Real-life classroom examples, tips, and Power Notes gleaned from the authors' experiences that can be applied to any level of writer
Resources, including a Patterns of Power Planning Guide and musical soundtracks, to use in classroom instruction or as handouts for student literacy notebooks
Patterns of Power, Grades 6-8
provides a simple classroom routine that is structured in length and approach, but provides teachers flexibility in choosing the texts, allowing for numerous, diverse voices in the classroom. The practice helps students build cognitive recognition and provides a formative assessment for teachers on student progress. With these short lessons, students will gain confidence and move beyond limitation to produce effortless writing in your class and beyond.
The Patterns of Power series also includes
Patterns of Power, Grades 1-5: Inviting Young Writers into the Conventions of Language
;
Patterns of Power en Español, Grades 1-5: Inviting Bilingual Writers into the Conventions of Spanish
; 
Patterns of Power, Grades 9-12: Teaching Grammar Through Reading and Writing
; and
Patterns of Wonder, Grades PreK-1: Inviting Emergent Writers to Play with the Conventions of Language.
About the Author
---
For the past 25 years, Jeff has worked with writers and teachers of grades, K-12, inspiring them about the power and joy of the writing process. He has written four books for Stenhouse Publishers: Mechanically Inclined, Everyday Editing, 10 Things Every Writer Needs to Know and his latest book with Dr. Deborah Dean of BYU Revision Decisions: Talking Through Sentences and Beyond (November 2014). He also has two middle grade novels, Zack Delacruz: Me and My Big Mouth (Sterling, 2015) and Zack Delacruz: Just My Luck (Sterling, October 2016).
Jeff grew up in Austin, where he learned to love writing through journaling, a bit of positive reinforcement, and writing stories and dramas to entertain his friends on the phone. He wanted to become a teacher early on, but his parents tried to convince him otherwise. "They wanted me to make more money." During an internship visit to a local elementary classroom, he made up his mind. "When I saw those curious eyes, kids raising their hands, asking questions, I lost all track of time and from that moment on, I was a teacher. I want to create environments that feel safe for learners at the elementary, middle, and university levels and during professional development for teachers. Working together we figure out things, surprise each other, find our strengths, and experience the joy it is to be a learner and teacher. We are students and teachers to each other."
Jeff specializes in writing, revision, and grammar. "I love the ability to spark curiosity and creativity and to support students in finding their voices. That's pure joy." When it comes to his own professional development, he wants to explore things that have meaning to him in the classroom. "I want to find out things I didn't know, be affirmed or reminded of what I do know, and be energized by thinking and action, reflection and application. Since that's what I want, that's what I give teachers. Something they can take, shape, and make their own. Something they can use right now."
Jeff's first book Mechanically Inclined, came to life from what he didn't know and what he needed to know. "I read, tried things out, played in my head and in my classroom, and read some more, permutating and refining. I thought about what worked and what didn't, as well as what sound pedagogical principles are used in other disciplines."
His other books also came from his work in his own classrooms and those across the United States. The invitational process Everyday Editing is built around was first shared in workshops until teachers wanted another book on grammar. 10 Things was Jeff's chance to share what his experience had taught him are the essential things every writer needs to know and be able to do. In his first collaboration, Jeff and Debbie came together to tackle a sentence combining and its larger effects on revision and writing.
In his free time, Jeff walks his dogs Carl and Paisley or sits on the deck with his partner Terry. When he's not doing that he reads middle grade novels and his new addiction is nonfiction.
Praise For…
---
"For years, students have been handed sets of "I said so" rules as the standard means of learning language conventions. Patterns of Power moves beyond prescriptive rules to offer a series of steps that, instead, help students to recognize and internalize language conventions in a way that makes them better readers, writers, listeners, and speakers. Notice the patterns in sentences. Compare them with others. Try them yourself. Apply them. Edit them. I love how this book teaches students to really think about language."
—Kelly Gallagher

"Patterns of Power will free you from the tyranny of old school grammar instruction and show you a process to guide adolescents toward joyful exploration and experimentation of crafting, creating, and conveying meaning. Whether you're a grammar "phobe" or an expert sentence diagrammer, you will love this book."
—Cris Tovani

"In a Patterns of Power classroom, the conventions of language become possibilities. Here, rules are replaced by invitations as our "wired to be inspired" middle school learners engage in honest inquiry, asking themselves and each other What can this convention do for me as a writer?"
—Lisa Thibodeaux, Director of Secondary Curriculum, TX

"Jeff Anderson is going to make me return to teaching middle school English Language Arts. This is the kind of book that would have made me feel like I could provide concrete, meaningful writing instruction to my students. I am grateful, however, that as an administrator I have the power to put this tool in the hands of all my teachers and allow the work of these authors to reach thousands of students."
—Chad Everett, Middle School Principal

"Patterns of Power, 6–8 is a must-have for every teacher who longs to get their adolescents hooked on grammar. It gives middle grade teachers a simple, student-centered process that showcases what grammatical patterns do for readers and writers and how they lead to stellar writing."
—Jodi Ramos, Middle School Teacher, Department Chair, and New York Times education contributor

"Jeff Anderson, Travis Leech, and Melinda Clark have crafted a gift for middle school literacy teachers and their students. Patterns of Power, 6–8 provides abundant lesson ideas for engaging student readers and writers in ways that improve comprehension, communication and self-expression, as well as a deeper look at why this approach works. Through students' observations of authentic texts and focused exploration of writers' craft and language use, you can increase their reading and writing confidence and skill. Clear, empowering, and effective!"
—Donalyn Miller, Texas educator and author