A Voice in Their Own Destiny: Reagan, Thatcher, and Public Diplomacy in the Nuclear 1980s (Culture and Politics in the Cold War and Beyond) (Paperback)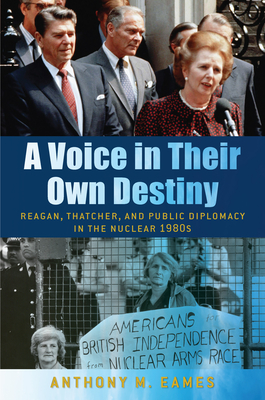 $35.94

Coming Soon - Available for Pre-Order Now
Description
---
On June 8, 1982, Ronald Reagan delivered a historic address to the British Parliament, promising that the United States would give people around the world "a voice in their own destiny" in the struggle against Soviet totalitarianism. While British Prime Minister Margaret Thatcher celebrated Reagan's visit and thanked him for putting "freedom on the offensive," over 100,000 Britons marched from Hyde Park to Trafalgar Square to protest his arrival and call for nuclear disarmament. Reagan's homecoming was equally eventful, with 1,000,000 protesters marking his return with a rally for nuclear disarmament in Central Park—the largest protest in American history up to that point.
Employing a wide range of previously unexamined primary sources, Anthony M. Eames demonstrates how the Reagan and Thatcher administrations used innovations in public diplomacy to build back support for their foreign policy agendas at a moment of widespread popular dissent. A Voice in Their Own Destiny traces how competition between the governments of Reagan and Thatcher, the Anglo-American antinuclear movement, and the Soviet peace offensive sparked a revolution in public diplomacy.
About the Author
---
ANTHONY M. EAMES is director of scholarly initiatives at the Ronald Reagan Presidential Foundation and Institute.
Praise For…
---
"In this meticulously researched book, Eames deftly musters new archival material from both sides of the Atlantic to tell the important story of how the Reagan and Thatcher governments worked together to successfully combat antinuclear feeling in the 1980s. A timely book with implications for effective public diplomacy today."—Nicholas J. Cull, author of Public Diplomacy: Foundations for Global Engagement in the Digital Age
"This is a truly engaging and insightful work that sheds much-needed light on a vital and neglected area of the late Cold War."—Aaron Donaghy, author of The Second Cold War: Carter, Reagan, and the Politics of Foreign Policy