The Moiseyev Dance Company Tours America: "Wholesome" Comfort during a Cold War (Culture and Politics in the Cold War and Beyond) (Paperback)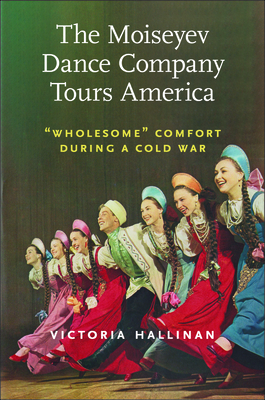 List Price: $32.95
Our Price: $28.01
(Save: $4.94 15%)
Coming Soon - Available for Pre-Order Now
Description
---
During the Cold War, dancers and musicians from the United States and the USSR were drawn into the battle for hearts and minds, crossing the Iron Curtain to prove their artistic and ideological prowess. After the passage of the Lacy-Zarubin Agreement, direct cultural exchange between the two superpowers opened up, and the Moiseyev Dance Company arrived in the United States in 1958. The first Soviet cultural representatives to tour America, this folk-dance troupe's repertoire included dances from territories controlled or influenced by the USSR, including Uzbekistan, Crimea, and Poland.
Drawing on contemporary personal and published accounts, Victoria Hallinan explores why the dancers garnered overwhelming acclaim during their multicity tour and Ed Sullivan Show appearance. The "boy-meets-girl" love stories of the dances, and their idealized view of multiple Soviet cultures living together in harmony, presented a comforting image of post–World War II gender norms and race relations for audiences. Americans saw the dancers—their supposed enemies—as humans rather than agents of communist contagion.
About the Author
---
VICTORIA HALLINAN is program manager of the Office for Postdoctoral Affairs and lecturer in the humanities at Yale University.
Praise For…
---
"In this important book, Hallinan uses audience reception to analyze how Americans looked at the troupe, and she has done enormous archival research to track down letters from audience members to the Moiseyev company, dance reviews in major US magazines and newspapers, and contemporary accounts of the company found in newspapers."—Anthony Shay, author of The Igor Moiseyev Dance Company: Dancing Diplomats
"The Moiseyev Dance Company Tours America is a significant contribution to the fields of dance, cultural diplomacy, and Cold War studies. It will appeal to scholars and readers in American studies, international relations, and other studies of the performing arts."—Anne Searcy, author of Ballet in the Cold War: A Soviet-American Exchange