The Digital Helix: Transforming Your Organization's DNA to Thrive in the Digital Age (Hardcover)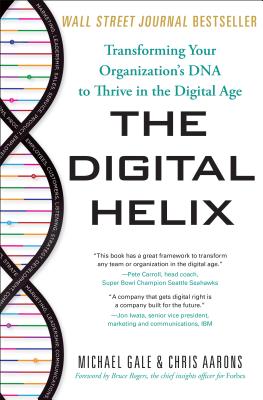 List Price: $17.95
Our Price: $9.95
(Save: $8.00 45%)
Description
---
Wall Street Journal Bestseller

Thrive in the Digital Age
Digital transformations are everywhere: business to business, business to consumer, and even government to citizens. Digital transformation promises a bridge to a digital future, where organizations can thrive with more fluid business models and processes. Less than 20% of organizations are getting digital transformations right, but these digitally transformed organizations can deliver twice as fast as other organizations, cut OPEX by over 30%, and have seen a near-immediate doubling in brand value. The power to act faster and do it better than before sits at the heart of truly digitally transformed organizations.

In The Digital Helix, authors Michael Gale and Chris Aarons explain the specifics of digitally transforming your organization-- from the role of the digital-explorer leader in using information to empower the organization to move better and faster to shifts in sales, marketing, communications and leadership, product development, and service and support. The Digital Helix is a practical guide to bringing all the key functions together and includes guidance on developing a digital culture from the ground up--making it part of your company's DNA--and the mindset tools needed to bring your organization into the digital-first age. Creating this digital-first DNA for your organization will allow you to not only embrace the digital age but thrive in it.
About the Author
---
Michael Gale founded Strategic Oxygen in 2001, which was widely seen as one of the technology industry's primary data toolset for marketers, used by over 20 brands and used to model over $4 billion in marketing and sales investments. The company was sold to Monitor Group, where he was a group partner from 2006 to 2010. In 2011, he became a partner at Pulsepoint Group, a digital consulting company, which was acquired by ICF in 2015. Michael has also served as chief web officer and GM at Micron Technology and was the vice president of Worldwide brand research at IntelliQuest. Chris Aarons has helped launch dozens of companies and products using a unique mix of digital, sales, and marketing strategies. At Pulsepoint Group, Chris helped leading organizations become digital in both their practice and delivery. In 2006, he launched one of the first social media departments at AMD and later wrote the book Social Media Judo: The Essential Guide to Mastering Social Media and Delivering Real Results. Chris also teaches digital marketing at the University of Texas at Austin and has won numerous awards for his digital programs while working for clients such as Adobe, Amazon, AMD, Cisco, Dell, HP, LG, Microsoft, Philips, and others.