The Food and Heat Producing Solar Greenhouse: Design, Construction and Operation (Paperback)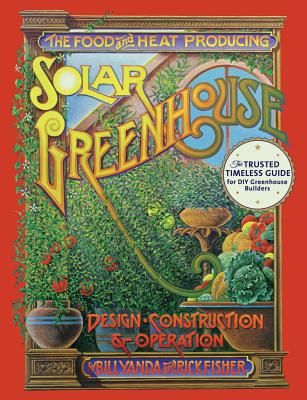 $24.10

Warehouse, In Stock | Usually Ships in 1-5 Days | New
Description
---
Move your family toward self-sufficiency with The Food and Heat Producing Solar Greenhouse. This modern reprint contains the same priceless information that launched the solar-greenhouse revolution in the 1970s. From greenhouses improvised out of PVC pipe and Plexiglas, to big-budget, state-of-the-art structures, the design principles presented in this book apply to greenhouse projects in any setting with every budget. Inside you'll find...
All the information you need to design, build, and operate a greenhouse that will add solar heat to your home and help you save on heating bills.
A planting, maintenance, and harvesting procedure that will keep fresh, nutritious produce on your table all year.
Examples of a variety of efficient greenhouse styles from all over the United States.
Growing your own food in a solar greenhouse is a healthy and rewarding way to eat better, save money, and minimize your carbon footprint. You'll cut down on food and energy costs for your family, and environmental costs for the planet.
Provides a good variety of design consideration and construction details plus critical sun-angle charts. -Sunset Magazine ...Where to look first...photographs of proven details and step-by-step instructions on both building and operation. -Co-Evolutionary Quarterly Another great nuts-and-bolts book...Three years' work and the construction of over 60 greenhouses went into this guide and it shows...Food self-sufficiency? This book all by itself can put you and your family a long, long way down the road toward that goal. -Mother Earth News.