Eclipse: How the 1919 Solar Eclipse Proved Einstein's Theory of General Relativity (Hardcover)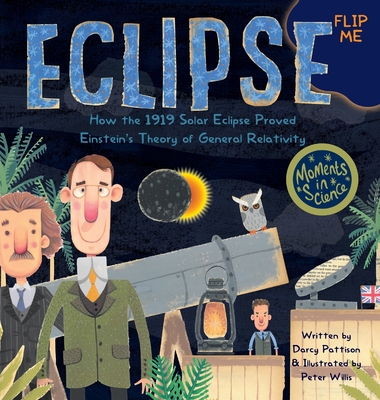 List Price: $25.99
Our Price: $22.09
(Save: $3.90 15%)
Warehouse, In Stock | Usually Ships in 1-5 Days | New
Description
---
In 1915, British astronomer Arthur Stanley Eddington was fascinated with Einstein's new theory of general relativity. The theory talks about how forces push and pull objects in space. Einstein said that the sun's gravity could pull and bend light.
To test this, astronomers decided to photograph a solar eclipse. The eclipse would allow them to photograph the stars before and during the solar eclipse. If the star's position moved, then it was evidence that that light had bent. Eddington and his team traveled from England to the island of Principe, just off the African coast, to photograph the eclipse.
In simple language, this nonfiction illustrated picture book explains how the push (acceleration) and pull (gravity) of space affects light.
Back matter includes information on Einstein, Eddington, and the original photograph of the 1919 solar eclipse.
MOMENTS IN SCIENCE COLLECTION
This exciting series focuses on small moments in science that made a difference.
BURN: Michael Faraday's Candle
CLANG Ernst Chladni's Sound Experiments (2019 NSTA Outstanding Science Trade Book)
POLLEN: Darwin's 130 Year Prediction (Junior Library Guild selection, starred Kirkus review)
ECLIPSE: How the 1919 Eclipse Proved Einstein's Theory of General Relativity