Mudlark: In Search of London's Past Along the River Thames (Hardcover)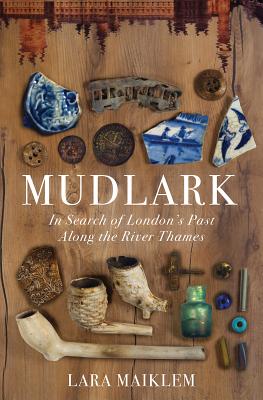 List Price: $27.95
Our Price: $23.76
(Save: $4.19 15%)
Description
---
"A riveting crash course not only in the history of London from prehistoric times to the present, but also in urban geography and how to read a living environment from organic clues." —Elizabeth Lowry, Wall Street Journal
As seen on TED.com • "Mudlarking: Lost and Found on the River Thames"

Apple Books • Best Books of the Month

BBC Radio 4 • Book of the Week

A Bookseller Book of the Month
A quixotic journey through London's past, Mudlark plumbs the banks of the Thames to reveal the stories hidden behind the archaeological remnants of an ancient city.
Long heralded as a city treasure herself, expert "mudlarker" Lara Maiklem is uniquely trained in the art of seeking. Tirelessly trekking across miles of the Thames' muddy shores, where others only see the detritus of city life, Maiklem unearths evidence of England's captivating, if sometimes murky, history—with some objects dating back to 43 AD, when London was but an outpost of the Roman Empire. From medieval mail worn by warriors on English battlefields to nineteenth-century glass marbles mass-produced for the nation's first soda bottles, Maiklem deduces the historical significance of these artifacts with the quirky enthusiasm and sharp-sightedness of a twenty-first century Sherlock Holmes.
Seamlessly interweaving reflections from her own life with meditations on the art of wandering, Maiklem ultimately delivers—for Anglophiles and history lovers alike—a memorable treatise on the objects we leave in our wake, and the stories they can reveal if only we take a moment to look.
About the Author
---
Featured in the Guardian and on the BBC and NPR for her work as the "London Mudlark," Lara Maiklem lives on the Kent coast, close to the Thames Estuary, and visits the river as regularly as the tides permit.
Praise For…
---
Mudlark is [Maiklem's] engrossing front-line report from 'a world of escapees and obsessives' who think nothing of scaling the perilous riverside ladders at odd hours, dressed in waterproofs and latex gloves, on the lookout for whatever traces of the past the river might spit up.... It's a riveting crash course not only in the history of London from prehistoric times to the present, but also in urban geography and how to read a living environment from organic clues.

— Elizabeth Lowry, Wall Street Journal

Unexpectedly compelling. . . . On the surface, this book advances knowledge of an era, a time when the Thames was home to centuries of trash, bodies, various 'oops,' and whatever washed into it from the land. What Maiklem finds is mostly mundane, yet fascinating for the sheer unending quantity — thousands of pins and clay pipestems — but also for the glimpse of culture provided by a shard of pottery or a coin rubbed thin by too much commerce. . . . You're left with the wonderful gift of knowing more than you did when you began the book, but also a yearning to wander one of Lake Superior's beaches, looking for agates or rusty bolts or antlers or key chains or sea glass. Because as much as it's fun to find something, the real satisfaction is in the getting away.
— Kim Ode - Minneapolis Star Tribune

Her expeditions and the objects they yield -- including hatpins, hand-blown glass bottles, buttons and the occasional precious stone -- provide a rambling, idiosyncratic, fascinating guide to the city's history.... Readers will learn much from one mudlark's generous offer of the knowledge she has picked up – a mosaic of different pieces, much like her treasures themselves. Those who live near tidal bodies of water, or even in London itself, may be inspired to do a bit of mudlarking on their own.
— Katie Noah Gibson, Shelf Awareness

This thoroughly fascinating look at treasure hunting along the banks of the Thames also serves as an astute history lesson.
— Publishers Weekly [starred review]

This engrossing memoir evokes the subculture of the 'mudlarks,' who scour the banks for fragments of London's past. Their discoveries serve as entry points into the history of the river and its environs.
— The New Yorker

The sense of discovery, of finding forgotten objects, is captured superbly in Maiklem's debut.... Maiklem positions the River Thames as a narrator, which only offers up some of its stories in a piecemeal fashion. The parts that are revealed, however, make for a captivating read.
— Brian Renvall, Library Journal

Throughout the narrative, Maiklem's imagination and infectious enthusiasm make for a lovely fantasy world where 'the tiniest of objects…tell the greatest stories.' Entertaining reading for British history buffs and budding archaeologists.
— Kirkus Reviews

A beautifully written memoir of one woman's relationship with the sacred Thames and the ghosts of its past. Lara Maiklem's book on mudlarking is as deep and as rich as the Thames and its treasures. Fascinating.
— Stanley Tucci

Driven by curiosity, freighted with mystery and tempered by chance, wonders gleam from every page.
— Melissa Harrison, author of All Among The Barley

Lara Maiklem reveals to us the fascinating and poignant micro-world of London's history; the fragments of life deposited on the tidal shores of the Thames. [Mudlark] is a flowing river of human stories; beautiful, wondrous and eternal.
— Hallie Rubenhold

[An] enthralling and evocative history of London and its people.
— Bookseller "Book of the Month"
Coverage from NPR