Energy Lab for Kids: 40 Exciting Experiments to Explore, Create, Harness, and Unleash Energy (Paperback)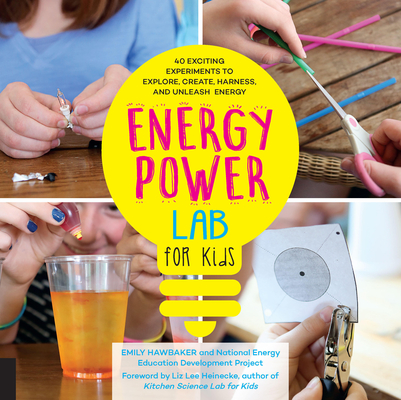 List Price: $22.99
Our Price: $19.54
(Save: $3.45 15%)
Warehouse, In Stock | Usually Ships in 1-5 Days | New
Description
---
Energy Lab for Kids offers 40 discovery-filled and thought-provoking energy projects by Emily Hawbaker, a science educator from the NEED (National Energy Education Development) project—with a foreword by Liz Lee Heinecke, author of Kitchen Science Lab for Kids. Using supplies that you can find around the house or in the grocery store, these exciting projects let you observe, explore, discover, and get energized!

We hear about energy on the news, we use it every day, and sometimes we're told we have too much of it. But what is energy—potential, kinetic, chemical, radiant, and thermal? The lab activities in this book will let you explore almost everything about energy—what it is, how we find it, how we use it, and how we can save it.

Uniting this collection of science experiments for the kitchen, backyard, or classroom is the goal to explore and discover real energy solutions. The chapters cross all categories—from steam, electricity, and chemical reactions, to water, solar, and wind power—allowing kids to compare and test the different sources and to discover their strengths and failings. Why is one source of energy is more efficient for a one situation but not for another? Why might two energy sources combined work better than a single source? Which sources are renewable? Projects are geared to understanding actual issues in the news today. With an emphasis on inventive exploration, you'll discover that creativity leads to breakthroughs.

Learn about:
chemical, radiant, and thermal energy by activating a glow stick and watching it get brighter in hot water.
viscosity by sucking soda and chocolate syrup up an "oil pipeline" made from straws.
solar energy by melting s'mores in a pizza box solar oven.
wind power by lifting paperclips with a wind turbine made from a cup, paper, tape, and straw.
calories by burning cheese puffs (and other food) in a homemade calorimeter.
The popular Lab for Kids series features a growing list of books that share hands-on activities and projects on a wide host of topics, including art, astronomy, clay, geology, math, and even how to create your own circus—all authored by established experts in their fields. Each lab contains a complete materials list, clear step-by-step photographs of the process, as well as finished samples. The labs can be used as singular projects or as part of a yearlong curriculum of experiential learning. The activities are open-ended, designed to be explored over and over, often with different results. Geared toward being taught or guided by adults, they are enriching for a range of ages and skill levels. Gain firsthand knowledge on your favorite topic with Lab for Kids.
About the Author
---
Emily Hawbaker has always had energy and a passion for science and education. After graduating from Pennsylvania State University with a degree in Earth science and a minor in science education, she began teaching eighth grade science. Her school was chosen to take part in an energy education project where students learn about their energy use and then teach others, with the help of the National Energy Education Development (NEED) curriculum and materials. Emily saw her students come alive with the NEED program, where she is now curriculum director. In this capacity she shares her passion for energy education as a facilitator of teacher and student events and programming across the country and around the world.
Liz Lee Heinecke has loved science since she was old enough to inspect her first butterfly. After working in molecular biology research for 10 years and earning her master's degree, she left the lab to kick off a new chapter in her life as a stay-at-home mom. Soon, she found herself sharing her love of science with her three kids as they grew, chronicling their science adventures on her KitchenPantryScientist website. Her desire to share her enthusiasm for science led to regular television appearances, an opportunity to serve as an Earth Ambassador for NASA, and the creation of an iPhone app. Her goal is to make it simple for parents to do science with kids of all ages, and for kids to experiment safely on their own. Liz graduated from Luther College and received her master's degree in bacteriology from the University of Wisconsin, Madison. She is the author of Kitchen Science Lab for Kids, Kitchen Science Lab for Kids: Edible Edition, Outdoor Science Lab for Kids, STEAM Lab for Kids, Sheet Pan Science, and Little Learning Labs: Kitchen Science for Kids. Her namesake series, The Kitchen Pantry Scientist, pairs illustrated biographies with engaging hands-on activities inspired by their work. The books in that series include: Chemistry for Kids, Biology for Kids, Physics for Kids, Math for Kids, and Ecology for Kids.
Praise For…
---
"An array of simple demonstrations designed to give budding eco-activists an understanding of how energy is stored, transferred, used responsibly, and recycled. Developed by the National Energy Education Development Project and demonstrated here by a cast of dozens of young children…the low-cost projects range from measuring shadows and charting temperature changes to constructing a solar cooker in a pizza box, creating an inventory of home-appliance energy needs, and competitively "mining" chocolate chips from cookies, then trying to reconstruct the cookies." – Kirkus Reviews

"The NEED Project continues to produce excellent resources for teachers. This book has an excellent variety of energy experiments. The labs are divided up into five units, making it easier to find the energy lab you need for your curriculum. The labs are easy to follow, with step by step color photos. Each lab gives specific examples as to how that specific energy concept relates to students' everyday life. The resource section for teachers helps explain the science behind each lab in the "Energy Explained" section. I also like how the book gives ideas on how to incorporate more technology into students' learning. I look forward to doing the experiments from this book with my students." - National Science Teachers Association Recommends

"Discover the amazing ways in which chocolate syrup, slinkies, and cheese curls can explain everything from solar power to sound waves and burning calories in Emily Hawbaker's Energy Lab for Kids. Using just a few simple tools and everyday items, experiments focus on the production of all types of energy, the importance of conservation, working as a team and, of course, having fun, all in sixty minutes or less." - ForeWord Reviews

"Color photographs show children taking part in 40 activities involving household objects: readers can simulate drilling for oil using chocolate syrup and straws, create a "biomass bag" with leftover food and yeast, build a generator, and construct a solar cooker using a pizza box, aluminum foil, and plastic wrap. Hawbaker clearly describes the implications of each activity, and sidebars lend perspective on how the labs relate to science...It's a straightforward guide to energy principles that encourages collaboration and active exploration." – Publisher's Weekly

"a great way for children and their parents to bond over something that's both fun and practical"

"Throughout the book Hawbaker does an excellent job of combining an active, visually engaging experiment with real-world learning on energy, explaining how it works and how we can explore and exploit it to enrich our world"—How It Works magazine