Common Sense Natural Beekeeping: Sustainable, Bee-Friendly Techniques to Help Your Hives Survive and Thrive (Paperback)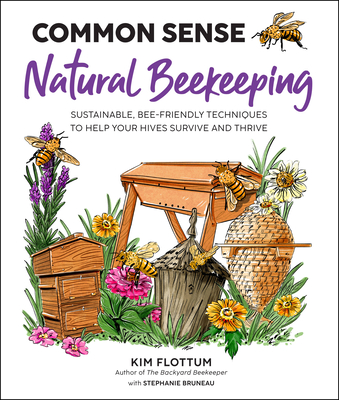 List Price: $24.99
Our Price: $21.24
(Save: $3.75 15%)
Warehouse, In Stock | Usually Ships in 1-5 Days | New
Description
---
With Common Sense Natural Beekeeping, learn to keep bees sustainably with limited chemical or human intervention.
Today's
bees face unprecedented challenges
. Chemical treatments for pests like the ubiquitous and deadly varroa mite have become standard even as resistance to such treatments grows and evidence suggests the chemical treatments themselves are contributing to the widely discussed Colony Collapse Disorder.
Common Sense Natural Beekeeping
offers beekeepers a different choice. Based on expert advice from Kim Flottom, editor emeritus of
Bee Culture
magazine and best-selling author of
The Backyard Beekeeper
, this book teaches 
holistic, sensible alternatives to conventional apiary practices,
and includes:  
Lessons from the way bees live in the wild
Management strategies that respect the natural intelligence of the bee
Hive design elements that promote colony health and resilience 
Case studies highlighting successful natural beekeepers from around the world
Beekeepers today have myriad choices to make that affect their bees' health and productivity. From housing to nutrition, including pests and diseases, 
Common Sense Natural Beekeeping
 introduces sustainable alternatives for natural hive management.
About the Author
---
Kim Flottum brings a rich background of plant science, honey bee research, and basic farming to his 30 years as the editor of Bee Culture magazine, where his main occupation has been finding the answers to the multitude of questions that beginning, intermediate, and even advanced and experienced beekeepers bring to the table. He teaches beginning and advanced beekeeping courses, travels extensively to educate and lecture, and contributes to a variety of other publications on the basics of honey bees and beekeeping biology, the business of bees and pollination, producing and using varietal honeys, and a host of other subjects. He is the author of The Backyard Beekeeper, First Time Beekeeping, In Business with Bees, and Common Sense Natural Beekeeping. His books, magazine articles, interviews, and blogs are widely read for both their fundamental and advanced contribution to beekeeping knowledge. He is beekeeping's leading advocate for fundamental honey bee safety, including ensuring excellent honey bee health, providing extraordinary forage, and minimizing the use of agricultural pesticides.
Stephanie Bruneau is a beekeeper, herbalist, and artist. She runs The Benevolent Bee, a small business selling honey, beeswax candles, herbal body care products, and other handcrafted and hive-derived items. At the Benevolent Bee "Teaching Apiary" Stephanie observes, learns, and teaches about bees and bee behavior to students of all ages. Stephanie has also taught classes about bees and the products of the honeybee hive at Northeastern University, The Cambridge Center for Adult and Community Education, The Morris Arboretum of the University of Pennsylvania, The Boston School of Herbal Studies, and Temple University.
Praise For…
---
Providing a valuable service to beekeepers everywhere, Kim Flottum and Stephanie Bruneau's Common Sense Natural Beekeeping takes natural beekeeping to the next level by using the latest honey bee science to inform a more bee centric approach to this ancient craft. Finally, common sense is about to become more common!—Ross Conrad, author Natural Beekeeping: 2nd Edition

This book is a fine source of information for beekeepers who want their colonies to survive and produce some honey, but do not want to treat them with miticides.  The beekeeping practices presented here are based on what has been learned about how honey bee colonies are surviving without human assistance when they live in the wild.—Tom Seeley, author of The Lives of Bees