Going Blue: A Teen Guide to Saving Earth's Ocean, Lakes, Rivers & Wetlands (Paperback)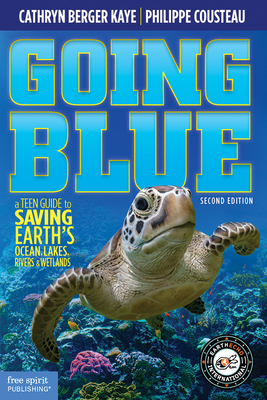 List Price: $17.99
Our Price: $15.29
(Save: $2.70 15%)
Coming Soon - Available for Pre-Order Now
Description
---
Encourage teens to learn about the water crisis and take action to protect and restore local waterways.
Whether it's in a drinking glass, flowing downstream, or miles underground, water is everywhere. And it's essential for life on Earth. But our water planet is in crisis.
Going Blue
 educates teens about our water crisis and gives them tools and inspiration to transform their ideas into action.
With color photos and illustrations, along with practical suggestions and activities, readers follow stories of young people around the world addressing water concerns and learn about issues such as clean water access, coral reef damage, runoff pollution, trash islands, factory fishing, and bottled water.
The second edition of
Going Blue
includes:
current statistics and updated facts
new stories about real teens
a focus on restoration and sustainability
COVID's impact on ocean trash
information about setting up a hydration station at school
updates on the restoration efforts ten years after the Gulf oil spill and on the Flint water crisis
Teens are helping our environment by going green, and they can help rescue our ocean and waterways by going blue. 
About the Author
---
Cathryn Berger Kaye, M.A., is an international education consultant and former classroom teacher. She promotes young people being effective changemakers at conferences around the world and works with students, teachers, schools, and organizations. Cathryn's books include Make a Splash! A Kid's Guide to Protecting Earth's Ocean, Lakes, Rivers & Wetlands (with Philippe Cousteau), The Complete Guide to Service Learning, and the How to Take Action! series of student workbooks. While Cathy enjoys traveling, she is glad to feel the ocean breezes at her home in Los Angeles. Most of all, she adores her family—husband, Barry, two daughters, Ariel and Devora, and three grandchildren—who inspire her daily.

Philippe Cousteau is an Emmy-nominated filmmaker and TV host, ocean explorer, social entrepreneur, and environmental advocate. He is the grandson of the legendary Jacques Cousteau—the man who invented scuba diving and introduced the world to life under the sea. He is the founder of EarthEcho International, a leading nonprofit organization creating a global youth movement to protect and restore our ocean. He has authored numerous books, hosted television shows for the BBC, Discovery Channel, Travel Channel, CNN, and more. He lives in Los Angeles with his wife, Ashlan, two daughters, rescue dog, and two chickens.

EarthEcho International is a nonprofit organization whose mission is to foster extraordinary leaders to take action to restore and protect our oceans. Led by Philippe Cousteau, EarthEcho's programs are dedicated to the legacy of his father, Philippe Cousteau Sr., whose devotion to the conservation and restoration of the oceans is one that can be shared by all people.