Wolf Haven: Sanctuary and the Future of Wolves in North America (Hardcover)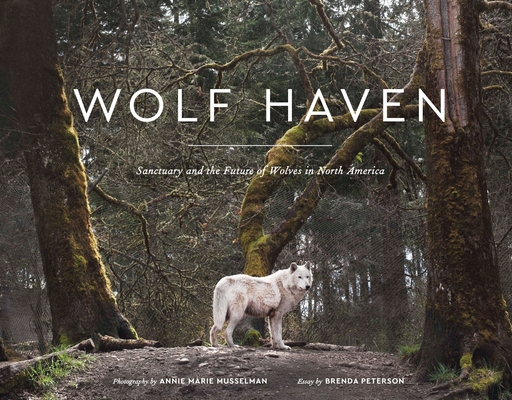 List Price: $24.95
Our Price: $23.70
(Save: $1.25 5%)
Description
---
This stirring book of photographs introduces the many wolves that have been given sanctuary at Wolf Haven International near Mount Rainer in southeast Washington State. Annie Marie Musselman was given the rare opportunity to photograph the wolves at the Wolf Haven sanctuary. These captive-born and displaced wolves came from a variety of captive environments. Some of the highly endangered Mexican and red wolf pups will be raised with the possibility of future release into the wild. Human contact is very limited, so the images captured by Musselman express a wild spirit that is very different from anything seen in domesticated animals. Brenda Peterson's text puts the stories of these wolves, and of wolves in North America, into context as she describes their behavior patterns and social structure. Wolf Haven uncovers new truths about wolves and the ways humans are finding to coexist with these wild animals.
About the Author
---
Annie Marie Musselman is a fine-art photographer whose work has appeared in the New Yorker and National Geographic. 
 
Brenda Peterson is a novelist, memoirist, and National Geographic nature writer. She is the author of eighteen books including Your Life is a Book.
Praise For…
---
Powell's Staff Pick for "Top 5 Favorite Books of 2016"

"[Mussleman's] images of the haven embody the meditative patience she used to photograph it. They're ethereal and lightweight, less like static pictures and more like breath—a glimpse of a being that you know is there but that you can't predict or control."
—National Geographic

"[A] close connection with the fascinating inhabitants of Wolf Haven."
—Pacific Northwest Magazine

"Every wolf, like every human, has a story….Peterson's poetic prose and Musselman's candid images bring the stories of these rescued wolves to light.
—Pet Connection Magazine

"Wolf Haven stories come alive."
—The Olympian

"[Musselman's photos] are stunning in their intimacy."
—Seattle Refined

"Captures the intimate lives of wolves."
—Sierra Magazine

"[A] stunning coffee table book."
—Nisqualley Valley News

"The story of the nonprofit and many of its furry, shy and carnivorous residents."
—The Chronicle

"Combines wildlife photography...with writing." 
—The Stranger

"[A] gorgeous new book."
—ParentMap

"Stirring."
—My Edmonds News

"Love."
—The Oregonian

"A moving tribute to the wild, beautiful, haunting animals that have found sanctuary."
—Shelf Awareness

"Wolf Haven is a fitting tribute to a wolf sanctuary that is doing its part to protect these species. If the measurement of a successful book is inciting someone to action, then Wolf Haven certainly qualifies."
—EcoLit Books

"A stirring book that pays homage to one of America's most remarkable creatures."
—Outdoor Photographer

"These captive-born and displaced grey & red wolves will steal your heart. The images are breathtaking. The stories are powerful."
—Beautiful Now 

"Learn about Wolf Haven International from Annie Marie Musselman, whose photographs are featured in [this] new book." 
—The Stranger

"[Depicts] wolves in a new light—captur[es] their beauty and gentleness." 
—Photo District News

"Inspired by the animals and the people of Wolf Haven International."
—the Lewis County, WA Chronicle