The Wounds Within: A Veteran, a PTSD Therapist, and a Nation Unprepared (Hardcover)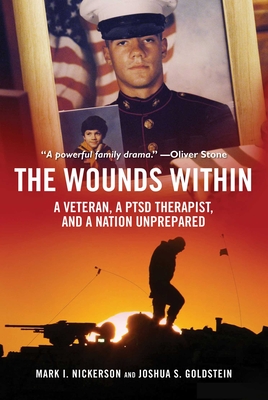 List Price: $24.95
Our Price: $23.70
(Save: $1.25 5%)
Description
---
As America's longest wars end, hundreds of thousands of veterans and their families struggle with post-traumatic stress disorder (PTSD). The Wounds Within follows the iconic case of Marine Lance Corporal Jeff Lucey, who deployed early in the Iraq War, battled PTSD after returning home, and set his family on a decade-long campaign to reform the Veterans Affairs system and end the stigma around military-related mental health issues. Their story is told uniquely from the perspective of Jeff's psychotherapist, Mark Nickerson, an internationally recognized expert on trauma treatment.

Driven by the family narrative, and by later case histories of Nickerson's veteran clients, the book explains PTSD and the methods by which it can be treated. With coauthor Joshua Goldstein, an award-winning author, Nickerson engages the big issues of America's attempts to cope with the millions of returning veterans from Iraq and Afghanistan—from belated reforms to overwhelmed military families to clueless civilians who can't get beyond "Thank you for your service."

The Wounds Within combines a moving and compelling human drama with national policy and a clinical explanation of how to heal veterans' traumas. It will stand as the definitive account of PTSD in those who fought America's latest wars, and a much-needed source of information for their loved ones.
About the Author
---
Mark I. Nickerson, LICSW, is a psychotherapist and internationally recognized expert on the treatment of post-traumatic stress disorder (PTSD). He teaches and consults widely on trauma, veterans, men's issues, and other topics, and has practiced individual and family psychotherapy in Amherst, Massachusetts, for thirty years. He is current president of the International Association for Eye Movement Desensitization and Reprocessing (EMDR), a leading PTSD treatment.
Joshua S. Goldstein is professor emeritus of international relations at American University, an award-winning author of many books and articles on war and society, and a frequent media commentator.
Praise For…
---
"A powerful family drama and a reminder of the price veterans pay long after the fighting ends." –Oliver Stone, director, Platoon and Born on the Fourth of July

"Nickerson admirably sheds light on a sad story as he offers practical advice for veterans and families coping with post-war emotional trauma." –Publishers Weekly

"War is changing, and one of the biggest changes is in our understanding of what it does to veterans. This moving and eye-opening book will be a landmark in our country's efforts to come to terms with a growing tragedy." —Steven Pinker, Harvard University, and author of The Better Angels of Our Nature

"Nickerson's resilient quest to learn more about PTSD is inspirational, heartfelt and genuine. No blame games, just a positive focus on solutions. The Wounds Within is and will remain timeless."
—Brig. Gen. (ret.) Colleen McGuire, director, U.S. Army Suicide Prevention Task Force, 2008-12

"An eloquent and haunting account of veterans who return home fighting the war within."
—Francine Shapiro, PhD, originator of EMDR therapy and author of Getting Past Your Past

"A powerful family drama and a reminder of the price veterans pay long after the fighting ends." –Oliver Stone, director, Platoon and Born on the Fourth of July

"Nickerson admirably sheds light on a sad story as he offers practical advice for veterans and families coping with post-war emotional trauma." –Publishers Weekly

"War is changing, and one of the biggest changes is in our understanding of what it does to veterans. This moving and eye-opening book will be a landmark in our country's efforts to come to terms with a growing tragedy." —Steven Pinker, Harvard University, and author of The Better Angels of Our Nature

"Nickerson's resilient quest to learn more about PTSD is inspirational, heartfelt and genuine. No blame games, just a positive focus on solutions. The Wounds Within is and will remain timeless."
—Brig. Gen. (ret.) Colleen McGuire, director, U.S. Army Suicide Prevention Task Force, 2008-12

"An eloquent and haunting account of veterans who return home fighting the war within."
—Francine Shapiro, PhD, originator of EMDR therapy and author of Getting Past Your Past