Why Customers Leave (and How to Win Them Back): (24 Reasons People are Leaving You for Competitors, and How to Win Them Back*) (Hardcover)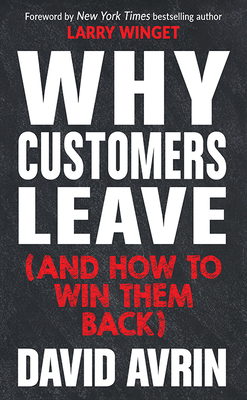 List Price: $22.95
Our Price: $14.99
(Save: $7.96 35%)
Description
---
+++ Named One of Forbes Top 10 Books Of 2019 +++

"If you have become tired of spinning your wheels and watching clients leave without warning, this book will show you how to foster genuine interactions, such as through video, rather than pursuing one-off 'wow' moments." --Forbes
Discover the 24 reasons people are leaving you for competitors and how to win them back.
In Why Customers Leave, popular customer experience and marketing speaker David Avrin makes a compelling case for customer experience as a bankable differentiator in an era of vast marketplace choices. The book lays out the very visible reasons for the recent shift in customer mindset and expectation, illustrates the myriad ways that companies inadvertently drive customers and prospects to competitors, and offers a multitude of creative strategies and tactics to attract and retain new prospects.
In the book, David explores and articulates the disturbing new dynamic that has arisen from easy-to-find, one-click-away, at-your-fingertips options: "We have become a world of impatient, intolerant and demanding customers, and we move on quickly if inconvenienced in any way. Don't blame the millennials! We have seen the enemy, and it is all of us."
About the Author
---
David Avrin, CSP has become one of the most popular speakers on Customer Experience and Marketing in the world today. In recent years, David has presented for enthusiastic organizations and audiences in 22 countries on 6 continents including: Singapore, Bangkok, Melbourne, Buenos Aires, Manila, Rotterdam, Bangalore, Sydney, London, Barcelona, Monte Carlo, Johannesburg and Dubai. A former CEO group leader and an in-demand speaker for Vistage International, the world's leading CEO member organization, David Avrin has had over 4,000 one-on-one conversations with company leaders regarding their value proposition and competitive advantages. David Avrin is the author of: Its Not Who You Know, Its Who Knows You and Visibility Marketing.
Praise For…
---
"Brilliant advice on how to attract and keep your customers. David Avrin uses entertaining stories to teach you lessons and actionable ideas that will help you give your customers the experience they deserve." --Shep Hyken, customer service expert and New York Times bestselling author of The Amazement Revolution
— Shep Hyken

"David Avrin is a Customer Experience and Marketing genius who can multiply your business by helping you understand exactly what your customers need. Read this book, apply it, and watch your revenue soar." --Rory Vaden, Cofounder of Brand Builders Group and New York Times bestselling author of Take the Stairs
— Rory Vaden

"An eviscerating indictment of how poorly customers are often treated, and the powerful recipe for doing the exact opposite. Highly recommended!" --Jay Baer, founder of Convince & Convert and author of Hug Your Haters
— Jay Baer

"Today customer experience is your brand. Marketing is a total waste of time if your experience doesn't match what you promise. Avrin nails it. Quit making it so damn hard to do business with your company!" --John R. DiJulius III, author of The Customer Service Revolution
— John R. DiJulius III

"This straight-forward, 'no holds' barred approach is exactly what businesses need to hear. Customers are not that difficult to serve when you are good at what you do and understand their needs. David zeroes in on what customers want and don't want in order to keep them returning." --Lisa Ford, author of Exceptional Customer Service
— Lisa Ford