They Don't Teach Corporate in College, Updated Edition (Paperback)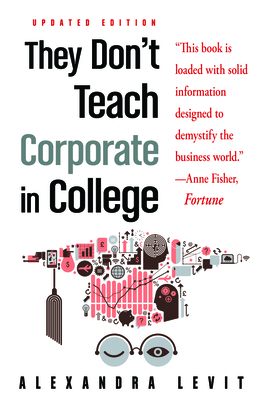 List Price: $18.95
Our Price: $12.99
(Save: $5.96 31%)
Description
---
"This book is loaded with solid information designed to demystify the business world." —Anne Fisher, Fortune
They Don't Teach Corporate in College has resonated with hundreds of thousands of readers and is currently used as a text in corporations and universities across the country.
Streamlined and made more accessible for the current generation of twenty-somethings, this new edition is for those that want to make a difference right now but lack some of the core skills to make it happen. Learn how to:
Make the smartest career move right out of college.
Establish a strong reputation by encouraging others to like and cooperate with you.
Navigate your organization's social scene and practice cringe-free networking.
Master skills that will take you anywhere, including goal setting and self-promotion.
Combat negativity and cope with difficult personalities.
Updated with fresh research, anecdotes, and resources, the book still maintains the no-nonsense perspective of a wise older sister who doesn't want you to have to learn the hard way.
About the Author
---
Alexandra Levit's goal is to prepare organizations and their employees to be competitive and marketable in the future business world. An author of eight books including Humanity Works and a former nationally syndicated columnist for the Wall Street Journal and writer for the New York Times, Fast Company, and Forbes. Levit recently became a partner with organizational development firm PeopleResults. She has served as a member of Business Roundtable's Springboard Project, which advised the Obama administration and has consulted for and spoken at hundreds of organizations around the world. Frequently appearing as a spokesperson in major media outlets, Levit was named an American Management Association Top Leader and has also been named Money Magazine's Online Career Expert of the Year. A member of the Northwestern University Council of 100, the Young Entrepreneur Council, and was just named to the Thinkers50's Class of 2019. She resides in Chicago, Illinois. Her website is www.alexandralevit.com.
Praise For…
---
"They Don't Teach Corporate in College is too good to be given only to the twenty-somethings. Anyone who's feeling lost and overwhelmed in cubicle country can benefit from reading this eminently practical book." —Daniel Pink, author of When and To Sell is Human
— Daniel H. Pink

"This insightful and essential guide to mastering the politics of corporate America should be required reading for every college graduate." —James A. Boyle, president, College Parents of America
— James A. Boyle

"An insider's guide to the working world, read this book." —Ken Blanchard, coauthor of The One Minute Entrepreneur
— Ken Blanchard

"If you're looking for a guide to ease the transition from flip-flops to wingtips, a fine choice is They Don't Teach Corporate in College. Alexandra Levit does a great job of attaching assumptions that high-achieving college grads drag into the workplace with them." —Mary Ellen Slayter, The Washington Post
— Mary Ellen Slayter

"Ms. Levit teaches newbies such practicalities as making a memorable first impression, networking without cringing, coping with difficult personalities, and learning to be an effective boss. The book is easy to read and loaded with common-sense techniques." —Steve Powers, The Dallas Morning News
— Steve Powers

"Alexandra Levit writes with honesty and a refreshing bluntness about office mysteries that boggle young employees. Sprinkled with bullet points and real-world examples of corporate successes and gaffes, They Don't Teach Corporate in College can be referred to by twenty-somethings (and those who need a refresher) again and again." —Beth Herskovits, PR Week
— Beth Herskovits

"A powerfully insightful resource for aiding next generation leaders as they aspire to break into the corporate world in the face of a most daunting and challenging economy." —Douglas R. Conant, Chairman of Avon Products, former CEO of Campbell Soup, and New York Times bestselling author of TouchPoints
— Douglas R. Conant

"I have grown up in my career with this book. When I started out, it was my workplace bible and years later, I make sure all our new hires have copies. Truly a Millennial-whisperer, Alexandra Levit speaks the language of the future leaders of corporate America and her work is essential in our efforts to be a top-notch company at which to launch a fulfilling career." —Brad Gorman, Manager, Whirlpool Corporation
— Brad Gorman

"This book is a must-read for new entrants in the work force and useful even to the more experienced professional." —Caroline Ceniza-Levine, National Association for Colleges and Employers
— Caroline Ceniza-Levine

"After four years of jeans and baseball caps and three hours of class a day, workforce newbies need a boot camp like this to face up to the rigors of the working week." —Abby Wilner, coauthor of Quarterlife Crisis
— Abby Wilner

"I am a college professor, and I have been using They Don't Teach Corporate in College as a supplement to my supervisory management class. Alexandra Levit is right on the mark with this book. The students have really enjoyed reading it and have learned so much from it. I have incorporated this book into my class discussions, and the students will be more prepared for the corporate world because of it!" —Mary Sakin, Farleigh Dickinson University
— Mary Sakin