Difficult Mothers, Adult Daughters: A Guide for Separation, Liberation & Inspiration (Self Care Gift for Women) (Paperback)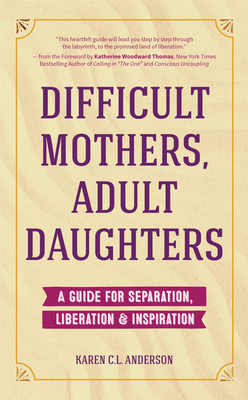 List Price: $16.95
Our Price: $14.41
(Save: $2.54 15%)
Warehouse, In Stock | Usually Ships in 1-5 Days | New
Description
---
Transform Your Relationship with Your Difficult Narcissistic Mother
"An empowering book that offers clarity and validation as well as strategies for freeing yourself from the control of an unhealthy mother relationship." ―Susan Forward Ph.D., author of Toxic Parents and Mothers who Can't Love

#1 Bestseller in Codependency

The best news on the planet is that your mother doesn't have to change in order for you to be happy. In fact, author Karen C.L. Anderson takes it a step further to say, your difficult narcissistic mother doesn't have to change in order for you to be free, peaceful, content, and joyful.

Emotional detachment from your narcissistic mother without guilt. Inspired by her own journey, Anderson shows women how to emotionally separate from their difficult mothers without guilt and anxiety, so they can finally create a life based on their own values, desires, needs, and preferences.

Learn through the experiences of others. The book is filled with personal stories and experiences, practical tools, and journal prompts that can be used now to experience the joy of letting go. Anderson compassionately leads women struggling in their relationships with their toxic mothers through a process of self-awareness and understanding. Her experience with hundreds of women has resulted in cases of profound growth and transformation.

Funny and compassionate. This book is about Karen discovering and accepting the whole of who she is (separate from her mother), and making her discoveries accessible to women struggling to redefine their challenging relationships with their mothers. Her writing is relatable, real, funny, and compassionate.

Inside learn:

Why mother daughter relationships can be toxic
How to heal and transform your mother "wounds"
The art of creating and maintaining impeccable boundaries
If you liked Codependent No More, Adult Children of Emotionally Immature Parents, or Henry Cloud's Boundaries, you'll love Difficult Mothers, Adult Daughters.