Rustic Carpentry: Woodworking with Natural Timber (Hardcover)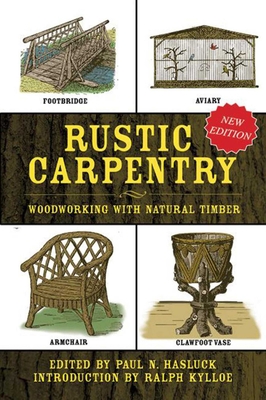 List Price: $12.99
Our Price: $11.04
(Save: $1.95 15%)
Description
---
A special gift edition of the classic guide to crafting beautiful, homemade, wooden furniture.

With an introduction by master craftsman Ralph Kylloe, this manual on rustic carpentry is a superb resource for woodworkers, furniture makers, and carpenters of all skill levels. Here are clear and concise instructions for creating beautiful pieces with unfinished timber and utilizing the unique texture and shape of tree branches, trunks, and shrubs. In addition, rustic woodworking requires few tools and relatively little skill to make decorative and practical flower stands, tables, chairs, gates, porches, aviaries, footbridges, verandas, tool sheds, and more. All these projects are included here with detailed advice on collecting and drying sticks; what kind of wood works best for various items; how to varnish both indoor and outdoor pieces; using battens and mortises to secure furniture; and successfully employing a range of other techniques.

This special edition includes 194 colorized illustrations. It is the perfect gift for the carpenter or craftsman in your life!
About the Author
---
Paul N. Hasluck, a true woodworking guru, was the craftsman behind titles such as Manual of Traditional Wood Carving, The Handyman's Book: Essential Woodworking Tools and Techniques, Rustic Carpentry, Traditional Glassworking Techniques, Metalworking, The Handyman's Guide, and more.