American Conspiracies (Hardcover)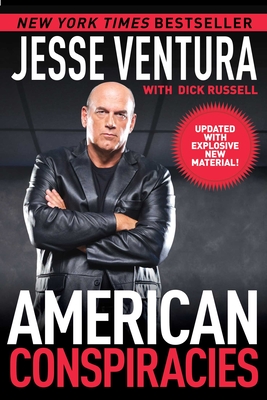 List Price: $24.99
Our Price: $23.74
(Save: $1.25 5%)
Description
---
A New York Times Best Seller!

New York Times bestselling author Jesse Ventura is back with more conspiracies that our government wishes you didn't know about!

In this explosive account of wrongful acts and ensuing cover-ups, Jesse Ventura offers a different side to the stories we've all heard and read about in the history books. He takes a look at the wide gap between what the government knows and what is revealed to the American people. The media is complicit in these acts of deception, often refusing to consider alternate possibilities and dismissing voices that diverge from public opinion. He will look closely at the theories that have been presented over the years and examine the truth as well as the lies. Ventura does not shy away from the tough questions. As he states, "When I get denied something, I do the opposite of getting intimidated—I get angry."

Now with new conspiracies added including information on the CIA torture scandal and the financial meltdown of 2008, you will see how the United States government continues to abuse our civil liberties and why we need to continue to stand up for what we know is right.

You may not believe everything in American Conspiracies, but it is guaranteed to make you think harder about everything you do believe.

Skyhorse Publishing, as well as our Arcade imprint, are proud to publish a broad range of books for readers interested in history--books about World War II, the Third Reich, Hitler and his henchmen, the JFK assassination, conspiracies, the American Civil War, the American Revolution, gladiators, Vikings, ancient Rome, medieval times, the old West, and much more. While not every title we publish becomes a national bestseller, we are committed to books on subjects that are sometimes overlooked and to authors whose work might not otherwise find a home.
About the Author
---
Jesse Ventura is the former independent governor of Minnesota. He is also a former US Navy frogman, a professional wrestler, a movie actor, a visiting fellow at Harvard Kennedy School of Government, and the New York Times bestselling author of seven books, including American Conspiracies, 63 Documents the Government Doesn't Want You to Read, and Don't Start the Revolution Without Me! He was the host and executive producer of truTV's Conspiracy Theory with Jesse Ventura, which won the Stony Award from High Times magazine in 2010. He was also the host of the political talk show Off The Grid, which aired on RT America and online at Ora.tv. He has a reputation as a rebel and a freethinker, and he has no qualms about questioning authority. He spends half the year in Baja, Mexico and the other half in his home state of Minnesota.

Dick Russell has written for such varied publications as Time, Sports Illustrated, and the Village Voice.His books include The Man Who Knew Too Much, Black Genius, and On the Trail of the JFK Assassins. He is also the coauthor of several New York Times bestsellers, including American Conspiracies, 63 Documents the Government Doesn't Want You to Read, and They Killed Our President.