American Chop Suey (Paperback)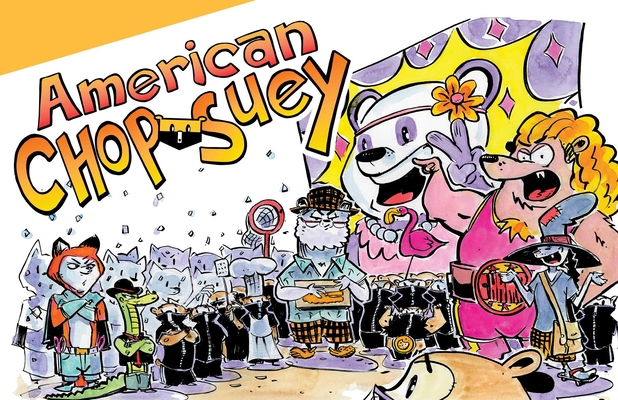 List Price: $19.99
Our Price: $16.99
(Save: $3.00 15%)
Coming Soon - Available for Pre-Order Now
Description
---
American Chop Suey is an all-ages, comedic graphic novel set on the great plains of North Dakota populated by kung fu rabbits, ninja prairie dogs, and wrestling bears. Written by Aaron Walther and illustrated by Ed Bickford, American Chop Suey is published by Scout Comics.

Having mastered the art of Origami, Tofu the Rabbit goes on a quest to learn the secrets of perfect scrapbooking from Princess Snowpea. Along the way, he battles a troupe of Ninja Scouts in training, mentors a wrestling bear, and tries to avoid the Evil Ferret, but when Tofu's rival, Dark Miso, kidnaps Princess Snowpea for his own nefarious purposes, Tofu and his new friends must band together to pull off a daring and comedic rescue.

The debut graphic novel in the American Chop Suey series, this is a silly and charming comedy about facing new challenges with a smile on your face and not getting discouraged when the odds are against you.
About the Author
---
Aaron Walther is a writer, artist, musician, and co-creator of American Chop Suey. He lives in the Southern Illinois suburbs of St. Louis with his wife and five cats. He loves comics, cartoons, and animals. Aaron said, "I wanted to make a comic that could be enjoyed by kids and their parents at the same time, something that could make everyone laugh while also encouraging creativity and imparting a few simple life lessons that are all too easy to forget."

Ed Bickford is the illustrator and co-writer of American Chop Suey. Ed has been drawing since he can remember and now draws for comics and Table Top Games in his spare time. Ed said, "We tried really hard to make something that would be clean and funny for everyone. I hope you enjoy it as much as Aaron and I had making this book because we laughed the entire time."