Small but Important Riots: The Cavalry Battles of Aldie, Middleburg, and Upperville (Hardcover)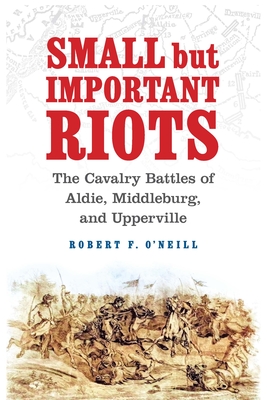 List Price: $36.95
Our Price: $31.41
(Save: $5.54 15%)
Warehouse, In Stock | Usually Ships in 1-5 Days | New
Description
---
June 1863. The American Civil War was two years old, and the U.S. Army in Virginia was in chaos. Reeling after the recent defeat at Chancellorsville, the Federals, especially the Cavalry Corps, scrambled to regroup. Confederate general Robert E. Lee seized the moment to launch a second invasion of the North. As Lee slipped away, frantic Federal leaders asked, "Where are the Rebels?" At this critical moment, the much-maligned Federal cavalry stepped to center stage.

Small but Important Riots is a tactical study of fighting from June 17 to 22, 1863, at Aldie, Middleburg, and Upperville, placed within the strategic context of the Gettysburg campaign. It is based on Robert O'Neill's thirty years of research and access to previously unpublished documents, which reveal startling new information.

Since the fighting in Loudoun Valley of Virginia ended in June 1863, one perspective has prevailed—that Brigadier General Alfred Pleasonton, who commanded the Cavalry Corps, Army of the Potomac, disobeyed orders. According to published records, Pleasonton's superiors, including President Abraham Lincoln, Secretary of War Edwin Stanton, and army commander Joseph Hooker, ordered Pleasonton to search for General Robert E. Lee's Army of Northern Virginia during a critical stage of the Gettysburg campaign, and Pleasonton ignored their orders. Recently discovered documents—discussed in this book—prove otherwise.
 
About the Author
---
Robert F. O'Neill is a retired police officer and current instructor at Moser Training Solutions of Colorado Springs, Colorado. He lives in Virginia. O'Neill is the author of Chasing Jeb Stuart and John Mosby: The Union Cavalry in Northern Virginia from Second Manassas to Gettysburg.
Praise For…
---
"Placing the battles in the strategic scenario and highlighting the leaders with their respective character flaws, makes this a masterful and engaging narrative well worth the attention of Civil War, cavalry, and military students and afficionados."—James Stacy, Journal of America's Military Past

"In addition to providing an exemplary historical account of a series of sharply contested cavalry actions fought during the early stages of the Gettysburg Campaign, Robert O'Neill's Small but Important Riots: The Cavalry Battles of Aldie, Middleburg, and Upperville is unquestionably indispensable to any meaningful discussion of the mid-war evolution of the Union mounted arm in the East."—Civil War Books and Authors

"The product of nearly thirty years of effort and accumulated knowledge, Robert O'Neill's book challenges what we have known about an essential part of the Gettysburg campaign. This is military history with humanity—events seen through the eyes of the people who in June 1863 turned the country roads connecting Aldie, Middleburg, and Upperville, Virginia, into a sprawling landscape of battle. . . . Deep research, new insights, clear writing, and unexcelled knowledge of the ground and personalities make this book essential reading for anyone interested in the momentous months of June and July 1863."—John Hennessy, chief historian at Fredericksburg and Spotsylvania National Military Park

"No one knows more about these three fierce cavalry engagements of the Gettysburg campaign or the documentary details of Union cavalry service in the East than Robert O'Neill. This revision of his 1993 study is based on even more details teased out of archival sources and a walking familiarity with the battlegrounds. It's an essential text if you want to understand cavalry service in the Civil War."—Andrew W. German, historian and author of a forthcoming book on the First Pennsylvania Cavalry

"Robert O'Neill has produced a magnificent book. Over decades of studying these three cavalry battles, he had built an unmatched reputation for diligence as a researcher, but he has remained above all a storyteller. O'Neill's narrative runs swiftly through the five-day fight, and his battle writing is superb. Not just one of the best books ever written about Civil War cavalry, this is a model of historical scholarship and of narrative history."—William J. Miller, author of Decision at Tom's Brook: George Custer, Thomas Rosser, and the Joy of the Fight