Anger Management Workbook for Kids: 50 Fun Activities to Help Children Stay Calm and Make Better Choices When They Feel Mad (Health and Wellness Workbooks for Kids) (Paperback)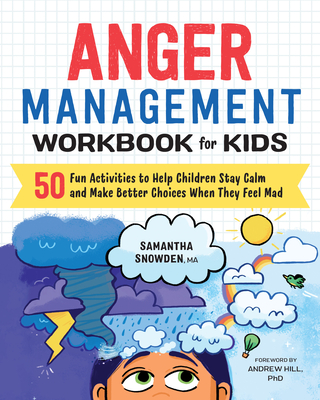 List Price: $17.99
Our Price: $15.29
(Save: $2.70 15%)
Warehouse, In Stock | Usually Ships in 1-5 Days | New
Description
---
Show anger who's boss with this book of 50 fun activities about anger management for kids ages 6 to 11.
Anger is a normal emotion just like joy, sadness, and fear, but it can be difficult to know how to express those feelings in a good way.
The Anger Management Workbook for Kids
is filled with 50 playful exercises to help kids handle powerful emotions. Teach kids to stay calm and make better choices when they feel angry. Other workbooks about anger management wish they could be this fun!
This workbook about managing anger for kids includes:
ALL ABOUT ANGER: Help kids learn about what anger is, how it feels, how to look out for it, and more.
ASSORTED & ENGAGING EXERCISES: Kids will doodle, write, meditate, and make illustrations and crafts like the Glitter Jar as they work through angry feelings with this delightful workbook about anger management.
FEEL-GOOD HABITS: Explore lots of healthy habits that help kids react better in situations that make them mad.
Stop angry feelings in their tracks with the activities in this workbook.
About the Author
---
Samantha Snowden offers mindfulness coaching and facilitation for youth, adults, families, schools, and educators. She has a bachelor's degree in psychology from UCLA and a master's degree in clinical and educational psychology from Columbia University. Samantha is currently the international mindfulness coordinator for Peak Brain Institute.
Praise For…
---
"Anger Management Workbook for Kids is a comprehensive compilation of exercises aimed at identifying anger and its triggers and finding tools to deal with the frustrations that lead to an outburst or hurt feelings. Samantha Snowden uses all types of identifiable situations that children find in everyday life, and includes easy charts and formulas that show how to head off anger by learning the triggers. She furthers the experience by teaching what causes those feelings, both physically and emotionally, as well as exploring possible unwanted consequences. This book is a must-read for parents, educators, and children, and should enable all readers to find the monster that anger can become, remove its fangs, and reduce its power forever."—Carole P. Roman, author of Mindfulness for Kids

"With this workbook, Samantha Snowden has provided a rich and useful set of practices to help develop the skills to notice and manage our internal states. Once kids start to develop a sense of freedom from their own emotions—not by ignoring them or pushing them away, but by validating the processes and circumstances that are creating them—great self-regulation skills can start to develop…The exercises and readings in this book will help kids of all ages break through the habit of automatic reactions, provide tools for labeling and understanding how their anger and discomfort work, and support them on the path of learning to be comfortable with their own emotions."—Andrew Hill, PhD, Founding Director of the Peak Brain Institute and UCLA Lecturer in Psychology

"As a former teacher and school counselor, I find Samantha Snowden's The Anger Management Workbook for Kids to be an incredible resource and tool to help kids go beyond managing anger to replacing it with choices that help them thrive. This useful workbook is thorough, yet not heavy in any way. Snowden has performed a beautiful balancing act with this book, providing kids with information; exploration and interaction; and activities, strategies, and skills that they can take out of the workbook and into their lives. The workbook is inviting and non-judgmental—kids don't feel accused or like adults want to "fix" them. In a gentle yet honest and frank way, this book helps kids explore their anger (thoughts, emotions, bodily sensations, and behaviors), its causes, and its consequences. I highly recommend this book for any child whose anger is overpowering and interfering in their life. With its approach that neither shames nor reprimands, kids will develop understanding and skills that will help now and as they grow into adults."—Tanya J. Peterson, MS, NCC, author of eight mental health books, including The Mindfulness Workbook for Anxiety

"Samantha Snowden has created an engaging, thoughtful workbook for kids who are interested in exploring exactly what is taking place inside our bodies and minds as anger forms. These hands-on activities encourage communication, self-reflection, and creativity, as children are guided step-by-step to investigate their emotions, recognize and identify feelings and needs, and practice, and ultimately shift, negative reactions. I highly recommend this interactive book, and applaud with gratitude Snowden's support of self-awareness, connectivity, and compassion."—J. Robin Albertson-Wren, parent, teacher, mindfulness instructor, public speaker, and co-author of Mindfulness for Kids