The Beginner's Guide to Stoicism: Tools for Emotional Resilience and Positivity (Paperback)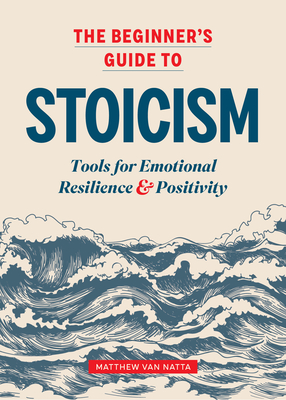 List Price: $12.99
Our Price: $11.04
(Save: $1.95 15%)
Description
---
Optimize joy, overcome obstacles—discover the calm of stoicism
Being a stoic means embracing positivity and self-control through the ability to accept the uncertainty of outcomes. With this stoicism guide, the beginner stoic will learn how to take charge of their emotions on the path to sustained happiness and satisfaction.
This easy-to-navigate stoicism guide gives you the emotional tools needed to let go of the things you can't control and find joy in what you have. Through thought-provoking strategies and exercises, this book helps you find contentment so you can build closer relationships and become an active member of society.
The Beginner's Guide to Stoicism
includes:
Evolution of stoicism—Discover the history of stoicism and how its principles can help you find peace.
Complete the mindset—Find acceptance using an essential emotional toolkit based on the disciplines of Desire, Action, and Assent.
Time to reflect—Apply what you've learned to your own life with ethical questions, quotes, and exercises.
Change your perception, focus on positivity—become the best version of yourself with
The Beginner's Guide to Stoicism
.
About the Author
---
MATTHEW J. VAN NATTA is the creator of the stoic podcast, Good Fortune, as well as the website Immoderate Stoic. His writings focus on the daily application of stoicism in the modern world.
Praise For…
---
"The Beginner's Guide To Stoicism is perfect for the beginner and experienced philosopher alike. Given the brief nature and simple style of this work, it's an enjoyable read and it will enrich your life."—J.R. Sedivy, Amazon reviewer

"I picked up this book on a whim. I've never contemplated stoicism and it's place (or absence) in my life. . . . I learned a great deal, and I was very pleasantly surprised. It wasn't overwhelming and offered really good and really practical advice that is easy to implement. Filled with quotes, questions, exercises, anecdotes, and more, this little guide can have a big impact on how you view your life!"—Madam Librarian, Amazon reviewer

"I really liked the breakdown of Stoic disciplines and virtues, and I especially enjoyed the Toolkit. I think the Toolkit is a super useful way of pairing the disciplines with Stoic practices to help you respond to all aspects of life. I would prefer this as a physical book to carry in my bag and reference the Toolkit on those days I struggle and need guidance in keeping a Stoic mindset."—Laura, Amazon reviewer