Righting Wrongs: 20 Human Rights Heroes Around the World (Paperback)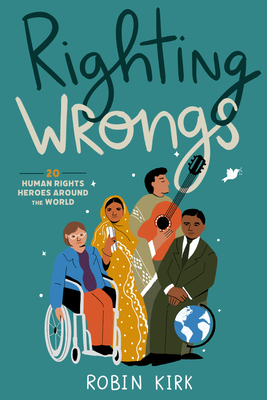 List Price: $16.99
Our Price: $14.44
(Save: $2.55 15%)
Warehouse, In Stock | Usually Ships in 1-5 Days | New
Description
---
Many young people aren't aware that determined individuals created the rights we now take for granted.

The idea of human rights is relatively recent, coming out of a post–World War II effort to draw nations together and prevent or lessen suffering. Righting Wrongs introduces children to the true stories of 20 real people who invented and fought for these ideas. Without them, many of the rights we take for granted would not exist.

These heroes have promoted women's, disabled, and civil rights; action on climate change; and the rights of refugees. These advocates are American, Sierra Leonean, Norwegian, and Argentinian. Eleven are women. Two identified as queer. Twelve are people of color. One campaigned for rights as a disabled person. Two identify as Indigenous. Two are Muslim and two are Hindu, and others range from atheist to devout Christian. There are two journalists, one general, three lawyers, one Episcopal priest, one torture victim, and one Holocaust survivor.

Their stories of hope and hard work show how people working together can change the world for the better.
About the Author
---
Robin Kirk is a human rights educator, advocate, and children's author. She is a faculty codirector of the Duke Human Rights Center at the Franklin Humanities Institute, a founding member of the Pauli Murray Project, and served as a senior human rights researcher for Human Rights Watch. Her fiction and other writing includes The Bond sci-fi trilogy. Her award-winning short stories and essays have been featured in a variety of anthologies and magazines, and she has written articles for major media outlets including the New York Times, Mother Jones, the Washington Post, and Sojourners.
Praise For…
---
"
Righting Wrongs
plunges readers into not only the achievements of a group of influential human rights advocates, but also the how and why they came to undertake such daunting and complex work. This book provides thorough context about the complicated and ever-changing environments in which human rights activism takes place, while also sparking curiosity. The study guides, glossary, and list of sites to visit invite readers to see the text as a jumping off point for their own engagement with human rights activism down the street and on the other side of the world." —Kyle Knight, senior researcher on health and LGBT rights, Human Rights Watch
"Righting Wrongs comes to us as a gift in troubling times. Just when things seem hopeless it reminds us that individuals as different as a nurse, a scientist, a musician-poet, a lawyer, a teacher, and a business owner can start a movement or organization that can make a difference in the world."
—Charles P. Henry, Professor Emeritus at UC–Berkeley
"Righting Wrongs offers a fresh and engaging perspective on the human rights movement. Kirk shares the stories of 20 inspiring but often unlikely heroes, showing how individuals have been able to shape history and build a powerful movement for human rights. This book is a wonderful and unique contribution to our understanding of how people can challenge injustice and make change in the world." —Jo Becker, Children's Rights Advocacy Director at Human Rights Watch and author of Campaigning for Children: Strategies for Advancing Children's Rights
"In this remarkable book, Kirk paints compelling portraits of human rights figures from across the globe. Righting Wrongs is not only for the youth: from young adults to veteran human rights advocates, everyone can learn something from the stories that Kirk has thoughtfully put down within these pages. With this book, Kirk has done something brilliant: she has expertly broken down some of the most important and complex developments in human rights into simple, clear, easy-to-understand language, and she has assembled a pantheon of inspiring human rights heroes for the next generation to admire, emulate . . . and hopefully follow in the footsteps of." –
James Tager,research director at PEN America
"In Righting Wrongs, Robin Kirk offers a youth an opportunity to do what youth does best; look at problems, propose solutions and take action."
 —Catherine Coleman Flowers, environmental justice leader
"I love me some Robin Kirk. She's got the inside dope on how every single person in the world has the power to make a positive difference."
—Dorothy Thomas, women's rights activist and founder of the Human Rights Watch Women's Rights Division
"4.5 stars!!!
I love the map at the beginning. It's cute and orients us.
A powerful and engaging introduction.
I love the style of storytelling throughout the book where it makes these real-life events seem so magical and storylike, while also sharing the gravity of the situation.
I like the anecdotes and informational gray things (not sure what to call them) in the middle of chapters, but I wish they were like on the side of the page instead of in the middle and the regular text went around them- the formatting was a bit weird in those cases.
The discussion questions were insightful and thought-provoking. even though I had no one to discuss the book with I still appreciated getting to consider them myself.
Chapters have the perfect length.
The only person I'd heard of was Pauli Murray and not in this detail, so it was wonderful to be introduced to so many awesome people from so many different groups.
The resources at the end of the book were so cool!
Overall, this was an awesome book and I know it'll be great for teens/young people to read as an introduction to social justice! I had a good time reading it, so I'll definitely be recommending it a lot."
—Christina,
Goodreads