A Perfectly Magnificent Cane (Hardcover)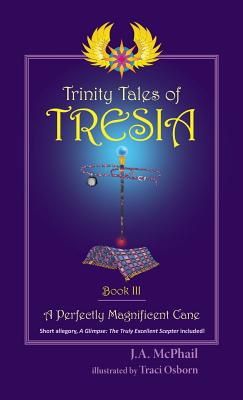 $26.40

Warehouse, In Stock | Usually Ships in 1-5 Days | New
Description
---
Even at the ripe old age of twelve, Gracie and her twin brother, Gene, are officially adopted by the coolest couple ever Their new mom and dad, Winny and Vince MacPherson, have told them amazing stories about a mysterious family heritage, magical gifts, and journeys through a three-realm universe called Tresia. While exploring the attic at the farm Winny inherited from Gran, Vince presents Gracie and Gene with Gramps' old dancing cane, a mystical family heirloom kept especially for them. The twins are thrilled as they discover that both their first family and their new one, share a mutual love of music, old movie musicals, and dancing.
Their adventures with the cane lead the siblings to the same beach where their parents were taken when they took their first journey to other realms. From the beach, the kids travel to an undersea Christmas village where they meet another pair of siblings, a Messenger from the Kingdom Beyond Time and his sister, the Keeper of the city, who is a marvelous cellist. On their second journey, they meet a handsome harp-playing Highlander who guides them to the Tresia Highlands. His sisters make and present them with a beautiful tartan made at the Tartan Factory. Their third journey takes them to a three-ring circus, where they weren't supposed to be, and the twins find themselves spinning out of control with the clowns. They barely escape the circus, thanks to an old friend of their parents, a Messenger who brings his white tiger to help. Finally, Gene and Gracie are joined by family and friends and they all enter a dangerous passage that leads to a fierce battle with enemies from the Fiery Realm of Mahvet, and the discovery of a powerful sword.
On their journeys, Gracie and Gene learn to appreciate the power of music as they are presented with musical forms of haiku poetry. Their new dad, Vince, invented a name for the haiku poems he and Winny found on their journeys. He called them Hai-klues. The Hai-klues the twins are given contain in the words and music, the hidden secrets and instructions to accomplish their assignment from the Three in One. Those secrets will be the key to the choices they make for the rest of their lives.
The presence of an annoying classmate who has somehow followed them to the Highlands, causes confusion and doubt as they try to treat her with kindness even though she drives them crazy. Is Cally an enemy or a friend? And what about the giant eagle with the strange eyes, and his rider who show up everywhere they go?
Before the journey ends, the companions must cross the river into the Kingdom Beyond Time if they hope to discover where the Scepter of Tresia is hidden. But will they be able to continue their narrow escapes from Calypso, the evil being who appears either as an ugly woman with green hair or as streaks of eerie emerald mist Winny and Vince's old nemesis, the Great Dragon Rasha, summons Agent Khadol and even the annoying imps Hyrtz and Myrt, to join the battle and stop the quest. How can Gracie and Gene overcome their enemies, master the secret of the cane, and see the mysteries of Tresia revealed before it's too late? Time is running out