Albert Einstein: Genius of Space and Time! (Show Me History!) (Hardcover)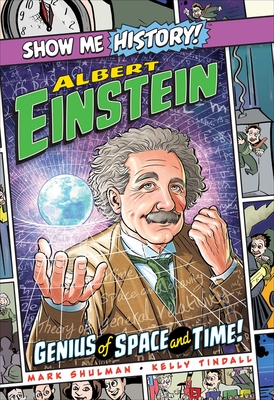 List Price: $12.99
Our Price: $11.04
(Save: $1.95 15%)
Description
---
How did this peace-loving man become the father of the atomic bomb? Find out inside!

By any measure, Albert Einstein changed the ways we understand—and measure—space and time. At first his ideas were ridiculed, but soon they were idolized. Prior to World War II, Einstein was a celebrated figure in Germany, but when the Nazi Party rose to power in the 1930s, he fled for his life and eventually settled in the United States. This proved to be a crucial decision, as his knowledge of physics helped the United States develop the atomic bomb and win the war. Albert Einstein: Genius of Space and Time! recounts the life of the world's most famous scientist—from his youth in Germany to his final years in the United States. Readers of all ages will be entertained and educated by the full-color illustrations and historically accurate narrative of this graphical biography.
About the Author
---
Mark Shulman has written more than 150 books for kids of all ages, including illustrated stories for Marvel Comics, Scholastic, Chronicle Books, Simon & Schuster, and more. Their subjects include The Incredible Hulk, Madagascar, Shamu the orca, The Amazing World of Gumball, and others. Mark started reading comics when they cost just 15 cents and hasn't stopped. He's still got Silver Surfer #1 in very fine condition, and he's not letting it go.

Kelly Tindall, the award-winning writer/artist of The Adventurers: Love You Very So Much and the Strangebeard series, makes one heck of a good sandwich. He lives in Edmonton, Canada, with his wife and two daughters. For more of his work, follow him on Instagram (@mrkellytindall).

John Roshell is a co-founder of Comicraft, the lettering and design studio best known for pioneering the process of digitally lettering comic books. He has lettered thousands of comics for Marvel, DC, Dark Horse, Blizzard, and more; created hundreds of typefaces widely used in comics and video games; and designed loads of logos for franchises like the Avengers, Daredevil, Black Panther, and Angry Birds. He lives in Santa Barbara with his wife Starshine, two boys, and a somewhat ugly dog.
Praise For…
---
Praise for the Show Me History! series:
"Bunking the notion that history is dull, these titles in the Show Me History! series convey the lives of notable historical figures through colorful and spirited cartoons." —Booklist