A Book about Books: Volume II of III (Paperback)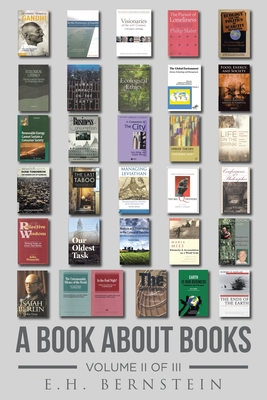 List Price: $22.95
Our Price: $19.51
(Save: $3.44 15%)
Warehouse, In Stock | Usually Ships in 1-5 Days | New
Description
---
This book is volume II of a planned three volume book plus supplementary website, www.bookabout books.com, which will present some books and subjects not contained in the books. A Book about Books discusses what nonfiction books and subjects the author believes are important to know about. Volume I is available from the same booksellers as this volume. Volume III will take several years before it is available.
E.H. Bernstein is a former librarian turned author. The subtitle of the book describes the author's objective: "A handbook in three volumes to a choice of essential books, writers and subjects in order to understand the world we live in, about 'big questions' and possible answers, about books and writers that may improve people's lives, about neglected writers, and other books and subjects."
A Book about Books attempts to share what the author has learned from nearly 50 years of nonfiction reading and to provide the reader with samples of the most important authors and subjects from that reading. While the book is based on research, it is intended to be a handbook or guide by trying to make that research understandable to the general reader and to students, and for teachers--by pointing to what the author believes is missing from today's education. A curriculum proposal for college teachers is on the website.
Note about how the volumes are related: each chapter is on a separate subject. So the chapters can be read individually, but the full message requires reading all the volumes. Volume I is important, but preliminary to the more important Volumes II and III. Note also that the book is not just about books, since other sources are also mentioned.
This book tries to point to problems in how we live and to see if books have any answers. Note that the author believes we should listen to many voices, so the book draws on many types of writers from different times and countries. A contemporary writer once said that one of the purposes of writing is that books should be useful. I hope that my book will be of use.