Islam Explained: A Short Introduction to History, Teachings, and Culture (Paperback)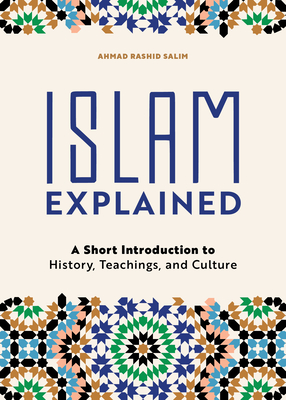 List Price: $13.99
Our Price: $11.89
(Save: $2.10 15%)
Description
---
A revealing guide to understanding the principles of Islam
With more than 1.8 billion followers worldwide, Islam is one of the world's largest religions, but it is also one that is poorly understood by many Americans.
Islam Explained
offers an informative overview of the faith, helping those who are new to Islam foster cultural awareness while also providing those already familiar with it the opportunity to deepen their understanding.
Whether you are looking to expand your own knowledge of Islam or just better understand the practices of Muslim friends, coworkers, and neighbors, this concise and essential guide provides a solid foundation for future study and conversation.
Islam Explained
features:
Easy-to-understand explanations—This book provides a complete overview ideal for those who are interested in Islam as a faith, a subject of study, and beyond.
Historical contexts—Better understand the history of Islam, how the religion has evolved, and the ways that history has shaped the lives of Muslims.
Beliefs and practices—Explore what it means to be a practicing Muslim, including the Five Pillars, laws, dress codes, and brief glimpses into how they vary between individual sects.
Take yourself on a journey that will end in a better, more complete understanding of Islam.
About the Author
---
Ahmad Rashid Salim was born in Kabul, Afghanistan, and raised in the San Francisco Bay Area. He has studied Islamic sciences both in the context of traditional Islamic learning and in academia. He leads spiritual services in Oakland, California, lectures, teaches, and is a doctoral student at the University of California, Berkeley.
Praise For…
---
"Clearly and with warmth, Salim invites all of us—young people, theologians, and anyone curious to meet their new neighbors—into a wonderfully readable introduction of the fastest-growing major religion. This primer details the teachings and practice of Islam, provides context for its relationship within the Abrahamic faiths, and encourages interfaith collaboration to address the pain and suffering of today." —Rev Lauren Van Ham, Interfaith Minister, Faculty & Academic Consultant, The Chaplaincy Institute

"At a time when studies of Islam are beset by jargon and confusion, Ahmad Rashid Salim comforts and enlightens even the most perplexed mind with clear language and well-organized chapters highlighting comparative subjects. He offers an inside yet unbiased perspective while combating misconceptions and taking on challenging issues like the Shi'a-Sunni split. I'm glad to add this guide to the resources I recommend to anyone new to the study of Islam." —Sayed Hassan Akhlaq, Ph.D. Professor of Religion and Philosophy (Northern Virginia Community College and Coppin State University) and Imam

"Islam Explained is a well-written comprehensive primer beneficial for readers of various backgrounds. I am familiar with the author's scholarship and recommend the work." —Dr. A.G. Ravan Farhadi, Professor Emeritus and Former Ambassador to the UN

"If you have been looking for a book that is easy-to-read, authentic, and concise yet detailed enough to quench your curiosity about the teachings, practices, and beliefs of Islam, your search is over. Salim's book serves to answer all your burning questions about Islam and Muslims, shattering many myths along the way. It can also be used as a guide to fact-check the negative stereotyping so prevalent in western popular media." —Ejaz Naqvi, MD, Interfaith Worker, Blogger, and Amazon Bestselling Author of The Quran: With or Against the Bible? and The Three Abrahamic Testaments

"Islam Explained is a cogent introduction to an array of topics that span Islamic history and thought in a clear and engaging manner. I was amazed by the number of topics Salim has been able to cover in this brief book. Its succinctness is a drop that quenches its readers just enough to arouse their curiosity to learn more. Aside from its academic texture, the poetic sensibilities and style of the text add to its beauty. I would love to see this book utilized by Muslims, those in the interfaith community, and anyone interested in a comprehensive and sensitive reading of such a misunderstood and misinterpreted faith." —Dr. Rasoul Naghavi-Nia, Professor of Islamic Studies and Author