My First Book of Planets: All About the Solar System for Kids (Paperback)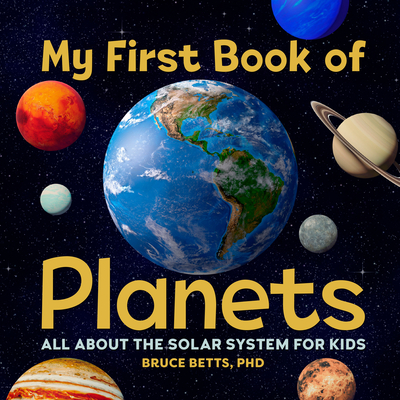 List Price: $6.99
Our Price: $5.94
(Save: $1.05 15%)
Warehouse, In Stock | Usually Ships in 1-5 Days | New
Description
---
Make the holidays out-of-this-world when you gift this colorful solar system book for kids 3-5

Get little astronomers excited about the cosmos—from the bright and burning sun, to our own blue Earth, stormy Neptune, and every planet in between. With this incredible book of planets for kids, curious learners ages 3 to 5 will explore the entire solar system through amazing images and fascinating facts on what makes each planet so special, including their size, distance from the sun, what the surface is like, how many moons they have, and more!

Go beyond other planet books for kids with:

BIG, BEAUTIFUL IMAGES: Vibrant photos and illustrations will take kids deep into space—no telescope required.

ASTRONOMY FOR KIDS: Learn all about the eight planets in our solar system, plus dwarf planets Ceres, Pluto, Eris, Haumea, and Makemake.

FUN SPACE FACTS: Did you know the bubbles in soda are the same gas that's on Venus? Out of this world facts will make this toddler space book a hit!

Show kids the amazing universe that surrounds them with My First Book of Planets.
About the Author
---
DR. BRUCE BETTS is a planetary scientist who loves teaching people about planets, space, and the night sky in fun and entertaining ways. He is the chief scientist for the world's largest space interest group, The Planetary Society, where he heads both the Science and Technology and the Education and Outreach programs. He regularly writes for a variety of online and print publications, including The Planetary Report and his blog, planetary.org. Learn more at RandomSpaceFact.com.
Praise For…
---
"A delightful book, beautifully illustrated, that explains our solar system to kids in words they can understand. It offers some great analogies—for example, comparing the size of the Moon to that of a tennis ball to the size of the Earth as a little bigger than a basketball. The author has a Ph.D. in planetary science but can write at a level that is very accessible to kids." —Dr Rosaly M.C. Lopes, Senior Research Scientist at JPL and author of several books on volcanoes and planetary science

"Great exploration of the solar system! The vocabulary is defined clearly to make comprehension a breeze. Bright, colorful pictures engage the reader. Relatable comparisons help to make the content understandable. This is the 4th book I have read by this author, and I am always impressed at how well he speaks to kids without speaking down to them. I wish I'd had this book when my kids were writing their solar system reports when they were in the 3rd grade. I can't wait for my students to get their hands on this!" —Kathy Proctor, 2nd grade teacher

"Here's the perfect book for introducing preschoolers and slightly older kids to the wonders of our solar system. The language is perfect for curious young scientists like my four-year-old grandson. The text is seasoned with many of the author's trademark Random Space Facts, while the mix of beautiful astrophotography and artists' drawings make My First Book of Planets a visual delight." —Mat Kaplan, Host and Producer of Planetary Radio