Writing Centers and Learning Commons: Staying Centered While Sharing Common Ground (Paperback)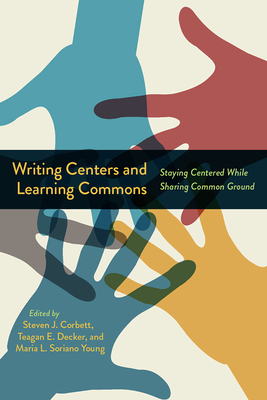 This item is backordered and not currently available. Please contact us for an estimated availability date.
Description
---
Writing Centers and Learning Commons presents program administrators, directors, staff, and tutors with theoretical rationales, experiential journeys, and go-to practical designs and strategies for the many questions involved when writing centers find themselves operating in shared environments.

The chapters comprehensively examine the ways writing centers make the most of sharing common ground. Directors, coordinators, administrators, and stakeholders draw on past and present attention to writing center studies to help shape the future of the learning commons and narrate their substantial collective experience with collaborative efforts to stay centered while empowering colleagues and student writers at their institutions. The contributors explore what is gained and lost by affiliating writing centers with learning commons, how to create sound pedagogical foundations that include writing center philosophies, how writing center practices evolved or have been altered by learning center affiliations, and more.

Writing Centers and Learning Commons is for all stakeholders of writing in and across campuses collaborating on (by choice or edict), or wishing to explore the possibilities of, a learning commons enterprise.
 
Contributors: Alice Batt, Cassandra Book, Charles A. Braman, Elizabeth Busekrus Blackmon, Virginia Crank, Celeste Del Russo, Patricia Egbert, Christopher Giroux, Alexis Hart, Suzanne Julian, Kristen Miller, Robby Nadler, Michele Ostrow, Helen Raica-Klotz, Kathleen Richards, Robyn Rohde, Nathalie Singh-Corcoran, David Stock
 
About the Author
---
Steven J. Corbett is director of the University Writing Center and associate professor of English at Texas A&M University, Kingsville. He is the author of Beyond Dichotomy: Synergizing Writing Center and Classroom Pedagogies and coeditor of Peer Pressure, Peer Power: Theory and Practice in Peer Review and Response for the Writing Classroom; Student Peer Review and Response: A Critical Sourcebook; and Writing in and about the Performing and Visual Arts: Creating, Performing, and Teaching. His articles on writing and rhetoric pedagogy have appeared in a variety of journals, periodicals, and collections.

Teagan E. Decker is professor of English and dean of the Esther G. Maynor Honors College at the University of North Carolina, Pembroke. She served as writing center director at UNCP from 2007 to 2014. Her most recent publication is the coedited collection Writing In and About the Performing and Visual Arts: Creating, Performing, and Teaching.

Maria L. Soriano Young is an assistant vice president at Dix & Eaton, working as a specialist in writing, editing, and communications. Previously, she spent eleven years in higher education at John Carroll University, where she was the writing center director, and worked in healthcare as a communication manager at Cleveland Clinic. She is also an experienced freelance editor who has worked across a number of industries.
 
Praise For…
---
"A valuable and timely contribution to the field. This is important, even if risky, work. Clearly, it is time for this book—one that recognizes the benefits and drawbacks of a wide range of locations but ultimately argues that the assumption that writing centers belong in English departments is not only outdated but also, often, limiting."
—Rebecca Hallman Martini, University of Georgia