Three Women Artists: Expanding Abstract Expressionism in the American West (American Wests, sponsored by West Texas A&M University) (Hardcover)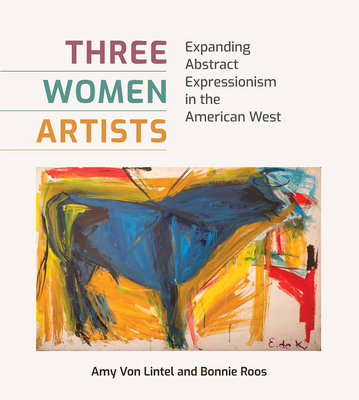 List Price: $50.00
Our Price: $42.50
(Save: $7.50 15%)
Description
---
Offering a fresh perspective on the influence of the American southwest—and particularly West Texas—on the New York art world of the 1950s, Three Women Artists: Expanding Abstract Expressionism in the American West aims to establish the significance of itinerant teaching and western travel as a strategic choice for women artists associated with traditional centers of artistic authority and population in the eastern United States.
The book is focused on three artists: Elaine de Kooning, Jeanne Reynal, and Louise Nevelson. In their travels to and work in the High Plains, they were inspired to innovate their abstract styles and introduce new critical dialogues through their work. These women traveled west for the same reason artists often travel to new places: they found paid work, markets, patrons, and friends. This Middle American context offers us a "decentered" modernism—demanding that we look beyond our received truths about Abstract Expressionism.
Authors Amy Von Lintel and Bonnie Roos demonstrate that these women's New York avant-garde, abstract styles were attractive to Panhandle-area ranchers, bankers, and aspiring art students. Perhaps as importantly, they show that these artists' aesthetics evolved in light of their regional experiences. Offering their work as a supplement and corrective to the frameworks of patriarchal, East Coast ethnocentrism, Von Lintel and Roos make the case for Texas as influential in the national art scene of the latter half of the twentieth century.
About the Author
---
AMY VON LINTEL, author of Georgia O'Keeffe's Wartime Texas Letters, is the Doris Alexander Endowed Distinguished Professor of Fine Arts at West Texas A&M University in Canyon, Texas. BONNIE ROOS is the head of the Department of English, Philosophy, and Modern Languages at West Texas A&M University. She is author of Djuna Barnes's Nightwood: The World and the Politics of Peace.
Praise For…
---
". . . a fascinating and original investigation of the intersecting careers of Texas-based art dealer Dord Fitz and the prominent New York-based modernists Elaine de Kooning, Jeanne Reynal, and Louise Nevelson. Thoroughly researched, engagingly written, thoughtfully argued, and lavishly illustrated, this book makes a valuable contribution to American art scholarship . . . ."—David Cateforis, author of Willem de Kooning and editor of Rethinking Andrew Wyeth
— David Cateforis

". . . highlights the efforts of a long-forgotten pioneer who advanced popular acceptance of abstract expressionism. Amarillo art dealer Dord Fitz publicized and advocated for mid-century modernism, especially female abstract expressionists. This book represents the best of art history. . . . belongs on the bookshelf of every person interested in the evolution of the visual arts in the United States during the mid-twentieth century."—Light Townsend Cummins, former State Historian of Texas and author of Allie Victoria Tennant and the Visual Arts in Dallas
— Light Townsend Cummins

"In Three Women Artists, Amy Von Linton and Bonnie Roos conduct an incisive, surprising, and engagingly presented examination of the Midwestern commitments of three major artists usually associated with New York. The authors make a persuasive case for a continuing revision of postwar American art history that acknowledges its geographical breadth as a key analytical lens. In the process, they make vital interventions into several pernicious tropes in the history of American modernism, effectively countering a critical teleology that has restricted scholarly consideration of abstract expressionism to the 1950s, and thoroughly debunking the notion that postwar modernism in America only existed on or had relevance for audiences on the coasts."—Louise Siddons, author of Centering Modernism: J. Jay McVicker and Postwar American Art
— Louise Siddons