DR.SEBI Recipe Book: 101 Tasty and Easy-Made Cell Foods for Detox, Cleanse, and Revitalizing Your Body and Soul Using the Dr. Sebi Food Lis (Paperback)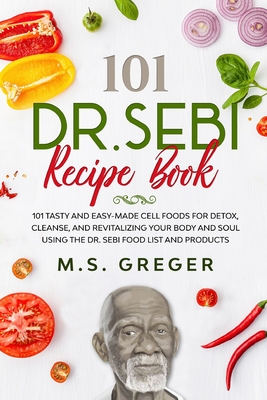 $16.99
This item is backordered and not currently available. Please contact us for an estimated availability date.
Description
---
DR.SEBI 100+ healthy and super easy recipes Have you learned about Dr. Sebi's diet and ready to get started? Can't figure out what to cook? Well, you don't have to look any further.
Continue reading, and you'll learn why.
Dr. Sebi's alkaline diet can turn your unhealthy body into a health machine. Dr. Sebi learned that modern medicine wasn't curing diseases, but, instead, was creating more problems for people. He learned about herbalism from his grandmother and an herbalist in Mexico and realized that this was the key to a much better health. Through the herbalist in Mexico, he was able to heal all the health problems that he had been diagnosed with.
While his diet will require you to cut out a lot of foods, a lot of people have found success with his teachings. This book is here to provide you recipes to help you get started on Dr. Sebi's diet.
Within this book, you will find:
Introduction to Dr. Sebi's diet
How to use Dr. Sebi's diet of natural eating to become healthy
The best alkaline meals that you can enjoy throughout the day
Delicious smoothies that will nourish and heal your body
Herb recipes that will leave you feeling good and healthy
Over 100+ easy and tasty meals to prepare
A wide variety of teas that will aid your daily health issues like: Respiratory Support Teas, Pregnancy Teas, Energizing Teas, Stomach soothing Teas, Teething Teas, Stress Teas, Pregnancy-Safe Headache Tea And much more
A delicious selection of smoothies, desserts, cereals, wraps & sandwiches, pasta & pizza, soups, and salads
Within these pages, you will find
100+ different recipes.
You will find that the ingredients needed are all
super easy to find
. You don't need processed foods or a bunch of additives to make tasty meals.
Foods in their natural state taste delicious on their own.
If you pass on this book, you will regret it. Make the right decision to change your life for the better. Get this book today and start trying out these delicious recipes. Scroll up and click "
Buy now
" right now.