Swimming with Sharks: Surviving Narcissist-Infested Waters (Paperback)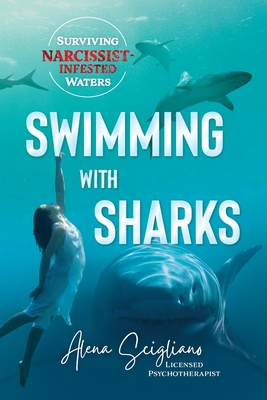 $27.59

Warehouse, In Stock | Usually Ships in 1-5 Days | New
Description
---
"We don't expect sharks to change their nature, so why do we hope narcissists will change theirs?"
Pathological narcissists make up a far greater percentage of the population than people realize and leave those in their wake questioning . . .
"What makes someone a narcissist?"
"Why do I seem to be a narcissist magnet?"
"How can I survive staying with a narcissist?"
"Why do narcissists hurt and manipulate others?"
"How do I deal with their manipulative behavior?"
"Can narcissists change?"
"What do I do now?"
Relatable, easy-to-read, and written for any gender or type of relationship, Swimming with Sharks: Surviving Narcissist-Infested Waters presents unique ideas and inspiring messages that will empower you when facing narcissistic abuse. In addition to answering the questions above, Swimming with Sharks will help you:
Protect yourself using the Shark Detector-Alena's curated list of red flags to assist you in detecting and avoiding relationships with narcissists in the future.
Understand what you do and do not have control over.
Determine whether or not you have the symptoms of Narcissistic Abuse Stress.
Work through the shame all survivor-victims of narcissistic abuse experience.
Learn how to heal from narcissistic abuse through Alena's Seven Stages of Soul-Mending.
Embrace moments of growth utilizing the companion Swimming with Sharks Growth Book.
Feel validated.
Feel worthy again
And much more.
A licensed psychotherapist and sought-after narcissistic abuse expert, Alena has cultivated a wealth of knowledge working with survivor-victims of narcissistic abuse since 2013. She draws on her experience and expertise to increase public awareness of narcissistic abuse by leveraging the power of social media, training other mental health professionals, and engaging in speaking opportunities on the subject. Alena is also the founder and CEO of Coastal Light Counseling, a multistate private group practice employing counselors and psychologists across the US who inspire healing through loving and compassionate psychotherapy.