Mental Health, What's That?: Let's Explore: An Introduction to Mental Health for Children (Paperback)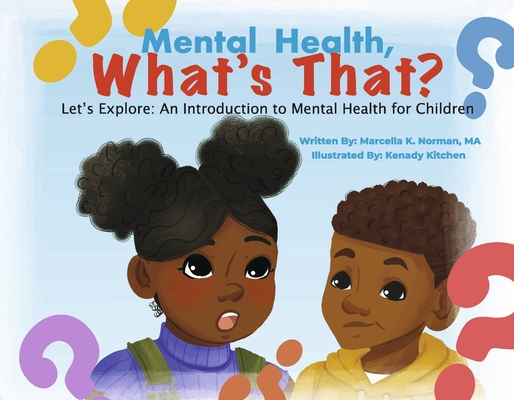 List Price: $12.99
Our Price: $11.04
(Save: $1.95 15%)
Description
---
Helping kids understand the importance of mental health, and connections between their mind, body, and the world around them .Children, their families, teachers, mentors, and communities will explore important factors about mental health while increasing their knowledge, and understanding as they read along. The book includes topics such as trauma, expressing and understanding feelings, thought patterns, mental illness, coping skills, and the similarities between physical and mental health symptoms. The objective of this book is to get the conversation of mental health started in homes, schools, and communities around the world. Day to day throughout this ever changing pandemic more, and more people are experiencing mental health challenges including our children. This book promotes social-emotional learning, psychoeducation, and mental health awareness.
About the Author
---
Marcella Kamile Norman, MA, is a clinical psychotherapist who holds a bachelor's degree in psychology from Ashford University and a master's degree in counseling psychology from Rosemont College in Pennsylvania. Her work began with the community health population and with those experiencing mental health challenges and some kind of psychosis. More recently, Marcella works with those dealing with substance abuse addictions in the drug and alcohol field. Marcella has an extensive background in various disciplines in the mental health field. While working for a community-based mental health program, she realized that there was a great need for more African American clinician representation. So, she has dedicated herself to working with and for the African American community.
Marcella also is currently working with children experiencing mental health disorders such as attention deficit hyperactivity disorder (ADHD), anxiety, depression, trauma, and post-traumatic stress disorder (PTSD).
She has also worked with the international community providing psychoeducation through workshops, specifically in Haiti. Marcella is currently pursuing licensure and continually seeking to expand her knowledge and service in the field of mental health, both in her community and internationally. Kenady Kitchen is a freelance graphic designer and illustrator. Born and raised in Tennessee and graduated with honors from Chattanooga State Community college with a degree in Digital Media Technology.

"I have always had a passion for design and art, which has brought me to the place where I am today; constantly searching to improve my myself and my craft. If I strive for perfection I'm headed in the right direction. I have interned as a graphic designer and partnered with several local businesses in establishing their individual brands".