Spies: The Epic Intelligence War Between East and West (Hardcover)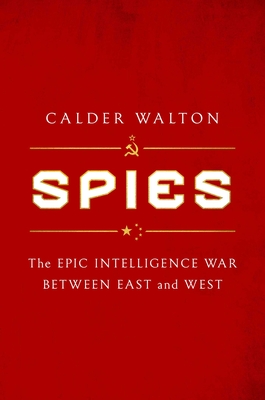 List Price: $34.99
Our Price: $29.74
(Save: $5.25 15%)
Warehouse, In Stock | Usually Ships in 1-5 Days | New
Description
---
The "riveting" (The Economist), secret story of the hundred-year intelligence war between Russia and the West with lessons for our new superpower conflict with China.

Spies is the history of the secret war that Russia and the West have been waging for a century. Espionage, sabotage, and subversion were the Kremlin's means to equalize the imbalance of resources between the East and West before, during, and after the Cold War. There was nothing "unprecedented" about Russian meddling in the 2016 US presidential election. It was simply business as usual, new means used for old ends.

The Cold War started long before 1945. But the West fought back after World War II, mounting its own shadow war, using disinformation, vast intelligence networks, and new technologies against the Soviet Union. Spies is a "deeply researched and artfully crafted" (Fiona Hill, deputy assistant to the US President) story of the best and worst of mankind: bravery and honor, treachery and betrayal. The narrative shifts across continents and decades, from the freezing streets of St. Petersburg in 1917 to the bloody beaches of Normandy; from coups in faraway lands to present-day Moscow where troll farms, synthetic bots, and weaponized cyber-attacks being launched woefully unprepared West. It is about the rise and fall of Eastern superpowers: Russia's past and present and the global ascendance of China.

Mining hitherto secret archives in multiple languages, Calder Walton shows that the Cold War started earlier than commonly assumed, that it continued even after the Soviet Union's collapse in 1991, and that Britain and America's clandestine struggle with the Soviet government provided key lessons for countering China today. This "authoritative, sweeping" (Fredrik Logevall, Pulitzer Prize­–winning author of Embers of War) history, combined with practical takeaways for our current great power struggles, make Spies a unique and essential addition to the history of the Cold War and the unrolling conflict between the United States and China that will dominate the 21st century.
About the Author
---
Calder Walton is one of the world's leading scholars of intelligence and national security. A historian at Harvard's Kennedy School of Government, he received a doctorate in history from Trinity College, Cambridge, where he also helped to write MI5's authorized hundred-year history. He is general editor of the three-volume Cambridge History of Espionage and Intelligence. His previous book, Empire of Secrets, won the Longman-History Today Book of the Year award. His research has appeared in leading academic journals and in print and broadcast media on both sides of the Atlantic. He lives in Cambridge, Massachusetts, with his wife and son, who teaches him the true nature of subterfuge.
Praise For…
---
This big book has no longueurs, and even gains momentum as it turns to the present day. Mr. Putin's invasion of Ukraine serves as a capstone to Mr. Walton's century long story, though he knows that the Cold War between Russia and America will not be the story of the 21st century. Accordingly, he looks to shed light on America's rivalry with China.

—Jeremy Black, The Wall Street Journal

"a pioneering study of espionage from 1917 to the present day."

—Robert Service, professor of Russian History at Oxford University

"a riveting history of espionage"—The Economist

"Calder Walton's deeply researched and artfully crafted book offers a masterclass in 20th century and contemporary history. It is rich with trenchant analysis, surprising details, cautionary tales, and unique insight into the 'hundred years war' between American and Russian intelligence agencies. Spanning the Bolshevik Revolution to the war in Ukraine, it is essential reading for anyone trying to understanding the complicated trajectory of current events."

—Fiona Hill, deputy assistant to the U.S. president and senior director for European and Russia on the U.S. National Security Council from 2017 to 2019

"A masterpiece! The intelligence report on Russia and Ukraine in February 1922 with which Spies begins could have been written on the eve of Putin's invasion a hundred years later. A major obstacle to understanding the current crisis, triumphantly overcome by Calder Walton, is Historical Attention-Span Deficit Disorder. As Spies vividly demonstrates, we are living through the latest stage of an Epic Intelligence War Between East and West which began a century ago and shows no sign of ending."

—Christopher Andrew, emeritus professor of modern and contemporary history at the University of Cambridge and author of The Defence of the Realm: The Authorized History of MI5

"Walton lifts the veil on the multifarious clandestine operations Russia and the West conducted against one another for over a century. The book makes major contributions to the study of espionage, most especially by highlighting the importance of leadership. . . . Walton's coverage of Soviet and, later, Russian propaganda holds great value for understanding Russia's efforts under current Russian President Vladimir Putin to use asymmetric espionage as a comparative advantage."

—Daniel Hoffman, a former senior executive in the CIA's Clandestine Services.

"Calder Walton's Spies takes the reader behind the veil of classification to the world of spying and spies' impact on history."

—Graham Allison, Douglas Dillon Professor of Government at Harvard University and author of the bestselling Destined For War: Can America and China Escape Thucydides's Trap?

"Spies is the book we have all been waiting for. Calder Walton is one of the leading intelligence historians of his generation, and his epic account—replete with human drama and tragedy—shows that Russia's struggle against the West neither began with the Cold War nor ended with the disintegration of the Soviet Union. This volume will engross the general reader and policy maker alike, not least because it provides an unsettling window into the behavior of the second challenger, the People's Republic of China."

—Brendan Simms, professor in the History of International Relations at Cambridge and author of Europe: The Struggle for Supremacy

Spies grabs you from the opening page and never lets go. One of our foremost historians of the East-West intelligence war takes us deep inside this grand and often spine-chilling struggle, which predated the Cold War and still rages today. Authoritative, sweeping, chock full of fresh and riveting details, this is a gem of a book.

—Fredrik Logevall, Pulitzer Prize-winning author of Embers of War

"Calder Walton has written the definitive compendium of intelligence operations in the Cold War, and their critical, if hidden, influence in shaping events and outcomes."

—Paul Kolbe, former chief of CIA's Central Eurasian Division