Trots and Bonnie (Hardcover)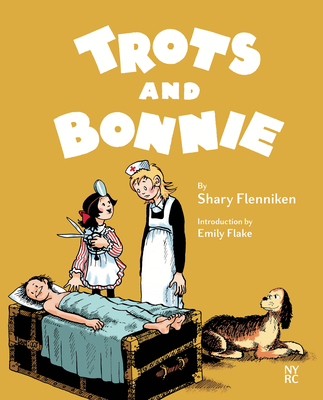 List Price: $39.95
Our Price: $33.96
(Save: $5.99 15%)
Description
---
"Trots and Bonnie is hilarious, poignant, raunchy, gorgeously drawn, and more relevant than ever. Shary Flenniken is an absolute genius." —Roz Chast

In the 1970s and 1980s, National Lampoon was home not only to some of the funniest humor writing in America but also to many of its best cartoons. One of the greatest was Trots and Bonnie by Shary Flenniken, a comic strip that followed the adventures and mishaps of the guileless teenager Bonnie and her wisecracking dog, Trots.

Bonnie stumbles through the mysteries of adulthood, as Flenniken—one of the few female contributors to National Lampoon—dissects the harsh realities of American life. Dating, sex, politics, and violence are all confronted with fearlessness and outrageous humor, rendered in Flenniken's timeless, gorgeous artwork. After all these years, they have lost none of their power to shock and amuse.

This collection, handpicked by Flenniken and with an introduction by the New Yorker cartoonist Emily Flake, is the first book of Trots and Bonnie ever published in America, a long-overdue introduction to some of the most stunning and provocative comics of the twentieth century.
About the Author
---
Shary Flenniken is a cartoonist, writer, and editor. Her work has appeared in a variety of books and magazines including The American Bystander, Graphic Classics, and Drunk Stoned Brilliant Dead: The Writers and Artists Who Made the National Lampoon Insanely Great. After living and working in San Francisco, Los Angeles, the Florida Keys, and New York, she now resides where she grew up, in the Magnolia neighborhood of Seattle, Washington. Shary holds degrees in commercial art, computer technology, web design, and professional technical education and instructional design. She loves post-apocalyptic science fiction, the artist Charles M. Russell, and walking her dogs.

Norman Hathaway is a designer, editor, and curator. He is the editor and author of several books, including Electrical Banana: Masters of Psychedelia and Dorothy and Otis: Designing the American Dream, and has lead creative initiatives for the Outsider Art Fair, London's Design Museum and Royal Academy of Arts, and artists, including Paul McCartney. He has taught widely on the history of design and typography. He lives in Brooklyn.

Emily Flake is a cartoonist and illustrator. Her work has appeared in The New Yorker, The New York Times, Time, and many other publications. Her weekly comic strip, Lulu Eightball, has appeared in numerous alternative newsweeklies since 2002. She lives in Brooklyn.
Praise For…
---
"I'd never seen Trots and Bonnie before, and needed it badly. You do too. I'm so glad it's back." —Liana Finck

"Dangerously funny, charming, and sexy—all of the things I hope to be one day." —Jack Handey

"Drawn in an exquisite pastiche on the classic comic strip style of George McManus (Bringing Up Father) and the like, [Trots and Bonnie is] a slyly whimsical take on feminism, hippies, the counterculture, and more. . . . Flenniken [is] . . . one of the best cartoonists of her time, full stop." —Heidi MacDonald, Comics Beat

"A naïve 13-year-old girl named Bonnie and her wisecracking dog Trots star in this uproariously funny and bawdy collection of comics, which originally ran in National Lampoon magazine throughout the 1970s–80s. Much about Bonnie's life is typical of fiction about young teens . . . Yet Flenniken touches on these familiar tropes in order to twist and subvert them into a brutal satire of American culture from a brazenly feminist perspective. . . . An intelligent, uncompromising, and singularly candid chronicle of young womanhood." —Library Journal (starred review)

"I remember being around the age of these characters when I first read some of these tales of nearly feral adolescence in the National Lampoon in the 1970s. . . . While everything else in the Lampoon was all about the "male gaze," Shary gave us the "female gaze." She offered National Lampoon's predominantly young male readership a view that was out of our comfort zone, into the inner workings of girls like the ones who surrounded us at our own schools; highlighting that they have their own motivations, their own curiosities and desires, and their own humor—a brilliant antidote to the male-centric mindset that was being shoveled onto us by so much of the media." —James Romberger, The Comics Journal

"Flenniken wanted to widen the eyes of these [National Lampoon] readers to what the world was like for women. . . . She conveys emotions and personalities with the slightest tweak of an eye. . . the pictures consistently delight. As the eye takes them in, one smiles, then giggles, before being overtaken by sputters and spleen. . . . Flenniken had a full set of artistic chops." —Bob Levin, The Comics Journal

"[Flenniken] never takes it easy on herself, even strips that are mostly just two people talking feature different poses in each panel, reflecting adolescents' tendency to fidget about. Her titles are different each time too, which is appropriate for a strip that, in many ways, is about trying on different identities: bad girl, Girl Scout, sex worker, artist, activist, dutiful daughter, anarchist and more. That's what 13 is, and that's what Flenniken got. . . Flenniken was writing female characters from the inside, not the outside." —Hillary Brown, The Comics Journal

"Trots and Bonnie was then and remains unique. . . . Most of [the strips'] adventures turn on sex, common enough even then, but in a way that no other episodic comic I know of did, and hasn't since." —John Crowley, Boston Review

"Cuttingly funny and empathetic. . . . Flenniken's comic strips are about trying to live through the experience of being a woman and come out emotionally whole on the other side. . . . Trots and Bonnie remains a jarringly relevant, insightful work of art, one that predicted the path forward for contemporary explorations of sexuality and gender by numerous cartoonists over the last decade." —Dan Nadel, Art in America