First Love (Paperback)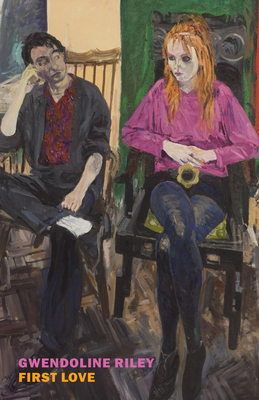 List Price: $16.95
Our Price: $14.41
(Save: $2.54 15%)
Description
---
A raw and engrossing portrait of familial and marital dysfunction by "one of Britain's most original young writers" (The Observer).

Neve is a writer in her mid-thirties married to an older man, Edwyn. For now they are in a place of relative peace, but their past battles have left scars. As Neve recalls the decisions that led her to this marriage, she tells of other loves and other debts, from her bullying father and her self-involved mother to a musician who played her and a series of lonely flights from place to place.

Drawing the reader into the battleground of her relationship, Neve spins a story of helplessness and hostility, an ongoing conflict in which both husband and wife have played a part. But is this, nonetheless, also a story of love?
About the Author
---
Gwendoline Riley is an English writer. Born in London, she published her first novel, Cold Water, in 2002. Her novel First Love was shortlisted for the Women's Prize for Literature, the Dylan Thomas Prize, the Gordon Burn Prize, and won the Geoffrey Faber Memorial Prize. She has also been awarded a Betty Trask Award, a Somerset Maugham Award, and has been shortlisted for the John Llewellyn Rhys Prize. In 2018, the Times Literary Supplement named her one of the twenty best British and Irish novelists working today.
Praise For…
---
"This is an emotional landscape (read: battlefield) in which every plant has roots in the past. Novels with "memory" as their primary subject do not always signal "page-turner," but Riley's writing is equal parts charm and weight, social and moral observation." —Sloane Crosley, Departures

"In six short novels of increasing refinement, the English writer Gwendoline Riley has explored the everyday terrors of family and conversation. . . .distinguished by bleak humor, remarkably vivid dialogue and flint-sharp prose." —Timothy Farrington, The Wall Street Journal

"First Love. . .is a razor-sharp portrait of everyday life in a volatile marriage. . . . By turns discomforting and irreverently comic, Riley's novel is always insightful as it grapples with [the main character's] central dilemma: 'People we've loved, or tried to: how to characterize the forms they assume?'"—Alice Martin, Shelf Awareness

"Eloquent and compelling reading. . . . Riley's brilliant ear for dialogue falls in an excellent British literary lineage that includes Henry Green and Barbara Pym. . . . Riley's bitter precision, replete with dark humor, offers perhaps more reality than our saccharine culture wishes to contend with, and this may explain why her work is not yet better known in the United States. . . . We are fortunate when so gifted a writer illuminates, with such nuance, what life is like." —Claire Messud, Harpers

"Very clever, very devastating novels that capture the excruciating separateness that can define our most intimate relationships. They are full of awkward, perfunctory dinners with family members, pointless rehashed arguments with lovers, and stunted catch-ups with old friends long outgrown. Improbably, they are also laugh-out-loud funny. . . . Her books stand apart." —Rachel Connolly, Vulture

"Riley's prose is deceptively simple, drawing you further and further into the labyrinth of the self. . . She takes a familiar theme of midlife minor angst and focuses in, closer and closer, until the banal becomes surreal, even beautiful. The effect is beguiling, like viewing everyday objects through a magnifying glass, or miniaturism for existentialists. . . . Exquisite and combative." —Joanna Kavenna, The Guardian

"An exceptionally good novel. Compressed to the limit of viability and yet filled with startlingly memorable descriptions and images. . . An impossible little wonder of a book, terrifying and horrible. . . Alarming, provocative, almost antagonistic—the reader pitched against the writer in a redrawing of battle lines. Take up the gauntlet with Gwendoline Riley: it's worth it." —Alex Clark, TLS

"Riley writes in pared-back, deceptively light sentences that twist and turn the emotional landscape almost imperceptibly. . . Witheringly precise, often funny. First Love says something very honest about relationships, and with an idiosyncratic style this sharp, who minds if it is not a departure from what has come before?" —Francesca Angelini, The Sunday Times

"Emotion throbs through Riley's spare, sharp prose. Her dialogue captures the cadences of contemporary conversation perfectly, her portraits are so nuanced that every character feels real, and she is funny and painfully true on the difficulty of honest communication. . . Riley's examination of human relationships is bleak, yet her vision is so expansive, her analysis so blistering, that First Love resonates with a power that is bittersweet and highly affecting." —Francesca Wade, Financial Times

"Elegantly written; Riley's prose [is] shimmering and luminous. . . Riley's writing has always been clear, focused, still—rather like an Edward Hopper painting—but First Love is fuller, more refined, and underpinned by a suffocating tension. . . It shows a writer at the height of her powers, snaring her themes into a singular, devastating journey into the ungovernable reaches of the heart." —Stuart Evers, Observer

"Exquisite. . . Riley expertly frustrates the reader's desire to create meaningful causal relationships. . . Searing." —Philly Malicka, Sunday Times