The Dog Merchants: Inside the Big Business of Breeders, Pet Stores, and Rescuers (Hardcover)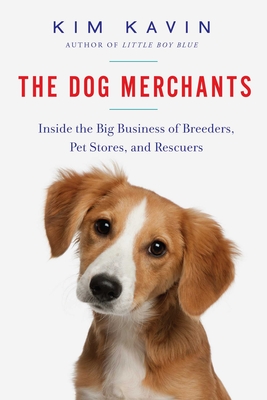 List Price: $27.95
Our Price: $26.55
(Save: $1.40 5%)
Description
---
We love them with all our hearts, but do we really know where our dogs came from? Kim Kavin, author of Little Boy Blue, reveals the complex network behind the $11 billion-a-year business of selling dogs. A must-read for the benefit of all dogs, everywhere.

In what promises to become an Omnivore's Dilemma for dog lovers—breed devotees and adoption advocates alike—The Dog Merchants is the first book to explain the complex and often surprisingly similar business practices that extend from the American Kennel Club to local shelters, from Westminster champions to dog auctions.

Without judging dog lovers of any stripe, The Dog Merchants makes it clear that money spent among these dog merchants has real-world effects on people and canines. Kavin reveals how dog merchants create markets for dogs, often in defiance of the usual rules of supply and demand. She takes an investigative approach and meets breeders and rescuers at all levels, shedding much-needed light on an industry that most people don't even realize is an industry.

Kavin's goal is to advance the conversation about how all dogs are treated, from puppy mills to high-kill shelters. She shows that a great deal can be improved by understanding the business practices behind selling dogs of all kinds. Instead of pitting rescue and purebred people against each other, The Dog Merchants shows how all dog lovers can come together with one voice as consumers, on behalf of all our beloved companions.
About the Author
---
Kim Kavin is a widely published award-winning journalist, as well as a volunteer worker dedicated to fostering puppies who have been saved from high-kill shelters but who have not yet been adopted. She lives in Long Valley, NJ, where her hobbies include cooking, wine tasting, and hiking local park trails with her dogs Blue and Ginger.
Praise For…
---
"Fascinating. We are dipping into a world largely veiled to the consumer. If it shines some light on the shadowy, largely unregulated dog industry, I'd say that's worth five stars."
— The Washington Post

"Essential reading for all dog lovers, this balanced work will become the standard on this topic."
— Library Journal (starred)

"A hard-hitting exploration of the idea of 'dogs as a product.' A scathing indictment of an industry run amok; belongs on every pet lover's bookshelf."
— Kirkus Reviews

"Pets play a unique role in human emotions. Furry friends are so beloved that dogs are, according to Kavin, an $11 billion a year industry. But behind portions of this mammoth business lie some shady practices. Kavin investigates these practices to ask where our pets come from."
— The Chicago Tribune

"A devastatingly clear-cut expose´. That Kavin manages to accomplish so much without tugging too hard on readers' emotions is only one of the surprises in this megaton bomb."
— Booklist

"Kavin's journalistic approach to the subject offers a balanced analysis of a impassioned subject, and her hands-on approach to research enhances her credibility. The insights into the commercial side of pet adoption are eye-opening, and even the most devoted dog advocates will likely find food for thought in these pages."
— Shelf Awareness

"Those who are breeding and raising dogs responsibly will find validation in their endeavors—and consumers seeking to buy or adopt dogs will benefit from the information Kavin has gathered as they make their decisions."
— Publishers Weekly

"Should be required reading for anyone interested in owning a dog—whether that be via adoption or purchase from a breeder."
— Parade

"Riveting, informative, and important. Kavin brilliantly explores both sides of every issue in a surprisingly even-handed manner, while steadfastly remaining a passionate advocate for the dogs caught in the middle."
— Teresa J. Rhyne, author of the No. 1 New York Times Bestseller THE DOG LIVED (AND SO WILL I)

"That Kim Kavin sees questions where the rest of the world sees everyday life is what makes her a great reporter. That she gets answers—disturbing, unexpected, yet ultimately hopeful—is what makes The Dog Merchants such a necessary and compelling read."
— Jim Gorant, New York Times bestselling author of THE LOST DOGS

"A deeply researched, entertainingly written, incredibly thorough journey into the murky, confusing, and poorly policed world of breeders, buyers, and sellers of dogs. Read it before you pick out your next puppy."
— Josh Dean, author of the award-winning SHOW DOG: The Charmed Life and Trying Times of an Almost-Perfect Purebred

"We must be their ally, their voice. The Dog Merchants shows you that the way to start is to be a conscious consumer."
— Robin Layton, Pulitzer Prize nominee and co-author of A LETTER TO MY DOG