Napoleon (Paperback)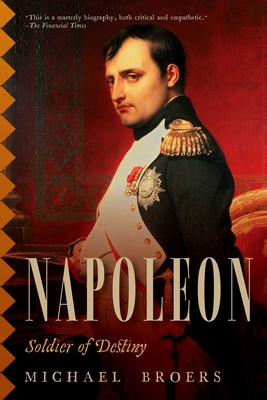 List Price: $17.95
Our Price: $17.05
(Save: $0.90 5%)
Description
---
All previous lives of Napoleon have relied more on the memoirs of others than on his own uncensored words. This is the first life of Napoleon, in any language, that makes full use of his newly released personal correspondence compiled by the Napoléon Foundation in Paris. All previous lives of Napoleon have relied more on the memoirs of others than on his own uncensored words.Michael Broers' biography draws on the thoughts of Napoleon himself as his incomparable life unfolded. It reveals a man of intense emotion, but also of iron self-discipline; of acute intelligence and immeasurable energy. Tracing his life from its dangerous Corsican roots, through his rejection of his early identity, and the dangerous military encounters of his early career, it tells the story of the sheer determination, ruthlessness, and careful calculation that won him the precarious mastery of Europe by 1807. After the epic battles of Austerlitz, Jena and Friedland, France was the dominant land power on the continent.Here is the first biography of Napoleon in which this brilliant, violent leader is evoked to give the reader a full, dramatic, and all-encompassing portrait.
About the Author
---
Michael Broers is a Professor of Western European History at Oxford University. He is the author of The Napoleonic Empire in Italy, winner of the Grand Prix Napoleon Prize, and Napoleon: Soldier of Destiny and Napoleon: The Spirit of the Age, both available from Pegasus Books. He lives in Oxford, England.
Praise For…
---
Breathtaking. The best—and certainly the most original—scholar writing in this field writing in English. Broers succeeds admirably.

Does
an excellent job of delineating the emotional and intellectual development of
the Corsican general-turned-French emperor. Offers a wonderful sense of the
genius—and man—who was so stunningly able to remake European boundaries and
mores after the meltdown from the French Revolution. Among the plethora of
Napoleon biographies, this is immensely engaging for lay readers.

Relying heavily on a newly released body of Napoleon Bonaparte's personal correspondence, Oxford historian Broers (Napoleon's Other War) brings Napoleon to the brink of mastery of Europe in this first of two projected volumes.


The great strength of Broers's book arises from its detail, empathy and even-handedness. He draws extensively on the newly edited volumes of Napoleon's 'Correspondence Generale,' as well as the thinking of numerous contemporary scholars, whom he generously acknowledges. He presents his information clearly and sometimes even lyrically, though his pages nonetheless demand close attention. This is a serious work, the product of reflection as well as research befitting a distinguished professor of Western European History at Oxford.
— Michael Dirda

Stimulating and genuinely innovative.

Scholars, Francophiles, and lovers of military
history will welcome this comprehensive yet highly readable narrative of the
life and times of Napoleon Bonaparte—the first in any language to make use of
new archival material currently being compiled by the Foundation Napoleon in
Paris. Rooted in the most recent secondary scholarship, the narrative is
enriched with maps, images, and lithographs. Highly recommended for general
readers and scholars alike.

Broers delivers a well-told story full of action and insight, with the added power of Napoleon's own words.

A fresh and highly intelligent look at Napoleon.