The Edible Garden: Grow Your Own Vegetables, Fruits & Herbs No Matter Where You Live (Paperback)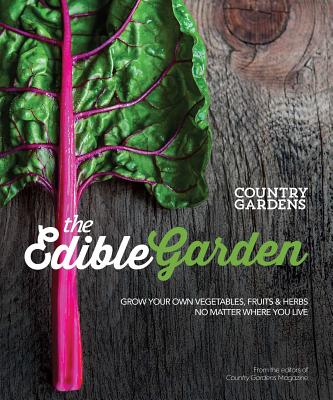 List Price: $25.00
Our Price: $21.25
(Save: $3.75 15%)
Description
---
From the experts at Country Gardens magazine, The Edible Garden will show you how to reap fresh vegetables, delicious fruits, and essential herbs from a garden of any size, in any space, no matter how small. Bring organic produce to your table and create delicious hand-crafted meals with the harvest from your back yard or windowsill! The Edible Garden is the complete guide to growing a bountiful, edible home garden. With over a hundred years of experience, the editors of Better Homes & Gardens' special-interest publications know gardening from the ground up! In this beautiful, photo-laden book the authors show how any space can yield a plentiful crop of tasty vegetables, fresh fruits, delicious herbs, and more. Whether you're working with a rooftop hideaway, a suburban backyard, or even a tiny window box or all-indoor container garden, it's easier than you think.

Highlights include: Detailed step-by-step instructions for creating the garden of your dreams in the space you have.

A seasonal guide to crops with descriptions of varieties for each, including when and how to plant. All the basics you need to start, from tools and containers to seeds and soil.

Simple recipes that show how to use your crop yield—and what to do when your garden produces more than you ever expected! Covers a wide range of topics, including: Starting from Seed: Save money by growing from seeds—including those you save yourself from your everyday meals. Making the Plan: How to assess the space at hand and plan to use it most efficiently, including seasonal tips for various environments.

Organic Solutions: Raise the healthiest food and protect the environment with these handy hints, including all-natural, chemical-free pest repellants, weed control, and soil enrichment. Container Gardening: Grow food for your table on a balcony, patio, or other small space. Special tips on how to grow some basics even if you've only got a window box to work with. Raised-Bed Gardens: All the rage in suburban front and back yards, rooftops, and community gardens, this results-intensive gardening method yields amazing harvests. Yard-to-Table: Recipes for your backyard bounty focusing on just-picked delights such as fresh tomato and arugula salad, crispy zucchini fritter, and cool cucumber sangria.