Anger Management for Everyone: Ten Proven Strategies to Help You Control Anger and Live a Happier Life (Paperback)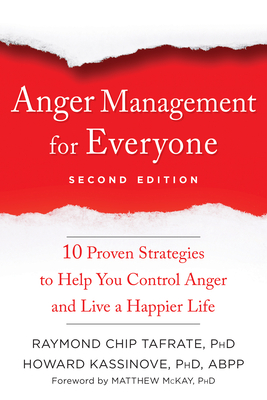 List Price: $24.95
Our Price: $21.21
(Save: $3.74 15%)
Description
---
"A practical, easy-to-follow guide to getting control of your anger so that you can live a more productive life today. ... Rather than get angry, get this book."
--Robert L. Leahy, PhD, director of the American Institute for Cognitive Therapy
We all get angry sometimes. But if you feel angry all of time--and if your anger makes others uncomfortable, creates distance in your relationships, disrupts your ability to think clearly and make good decisions, or otherwise results in behaviors that you regret or find embarrassing later--it's time to make a change.
Written by two clinical psychologists with decades of experience using cognitive behavioral interventions to treat anger, Anger Management for Everyone provides a comprehensive, research-based program to keep anger in its place. This revised and updated second edition includes new information on the environmental effects on anger, such as hunger and sleep; new progressive muscle relaxation and mindfulness exercises; and new strategies and tips for improving social and interpersonal skills.
With the authors' enhanced "Anger Episode Model," and the ten proven-effective skills for anger management in this helpful guide, you'll come to better understand and control your problem anger, learn how to cope with everyday disappointments and frustrations, and experience more happiness, success, and vitality in all areas of your life.
About the Author
---
Raymond Chip Tafrate, PhD, is a clinical psychologist and professor in the criminology and criminal justice department at Central Connecticut State University. He is a fellow and supervisor at the Albert Ellis Institute in New York City, NY, and a member of the Motivational Interviewing Network of Trainers. He frequently consults with criminal justice agencies and programs regarding difficult-to-change problems such as anger dysregulation and criminal behavior. He has coauthored numerous books, and has presented his research throughout North America, Europe, Asia, and Australia. Howard Kassinove, PhD, ABPP, is a board-certified clinical psychologist, former chairperson of the psychology department at Hofstra University, and past director of their PhD program in clinical and school psychology. Kassinove is a fellow of the American Psychological Association, the American Psychological Society, the Albert Ellis Institute, and the Behavior Therapy and Research Society. The editor of Anger Disorders, he has published more than sixty papers, and has lectured widely in the United States, Europe, and Asia. Foreword writer Matthew McKay, PhD, is a professor at the Wright Institute in Berkeley, CA. He has authored and coauthored numerous books, including The Relaxation and Stress Reduction Workbook, Self-Esteem, Thoughts and Feelings, and more. McKay received his PhD in clinical psychology from the California School of Professional Psychology, and specializes in the cognitive behavioral treatment of anxiety and depression. He lives and works in the greater San Francisco Bay Area.