The Cognitive Behavioral Workbook for Anger: A Step-By-Step Program for Success (Paperback)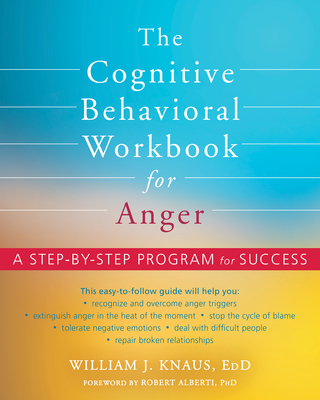 List Price: $24.95
Our Price: $21.21
(Save: $3.74 15%)
Description
---
A radically effective and evidence-based anger management tool--deeply rooted in cutting-edge research
We are living in an age of anger. You hear people squabbling on the news. Reality TV portrays people baiting others into anger. Neighbors are intolerant of neighbors. We see more frustration and intolerance for people with different political views, beliefs, and lifestyles. Anger is everywhere--and it has real risks, including heart disease and depression. So, how can you break free from painful, self-defeating, and dangerous anger traps?
Drawing on the gold standard treatment for anger--cognitive behavioral therapy (CBT)--and informed by the no-nonsense approach of rational emotive behavior therapy (REBT), this workbook is chock-full of powerful tools, exercises, and self-assessments to help you overcome destructive anger, once and for all. With this guide, you'll discover skills for identifying and avoiding needless anger; staying cool when anger heats up; and forging a stronger, more capable, and rational sense of self.
If your anger is getting in the way of your relationships, your career, your health, and your happiness, The Cognitive Behavioral Workbook for Anger can help you take charge of your anger--and your life.
About the Author
---
William J. Knaus, EdD, is a licensed psychologist with more than forty-six years of clinical experience working with people suffering from anxiety, depression, and procrastination. He has appeared on numerous regional and national television shows, including The Today Show, and more than one hundred radio shows. His ideas have appeared in national magazines such as U.S. News & World Report and Good Housekeeping, and major newspapers such as The Washington Post and the Chicago Tribune. He is one of the original directors of postdoctoral psychotherapy training in rational emotive behavior therapy (REBT). Knaus is author or coauthor of more than twenty-five books, including The Cognitive Behavioral Workbook for Anxiety, The Cognitive Behavioral Workbook for Depression, and The Procrastination Workbook. Foreword writer Robert Alberti, PhD, has received international recognition for his writing and editing, which is often praised as the "gold standard" for psychological self-help. Retired from a long career as a psychologist, marriage and family therapist, editor, and publisher, he is author of Your Perfect Right, which has sold more than 1.3 million copies in the United States, and has been published in translation in more than twenty languages around the world.