The Self-Compassion Workbook for Ocd: Lean Into Your Fear, Manage Difficult Emotions, and Focus on Recovery (Paperback)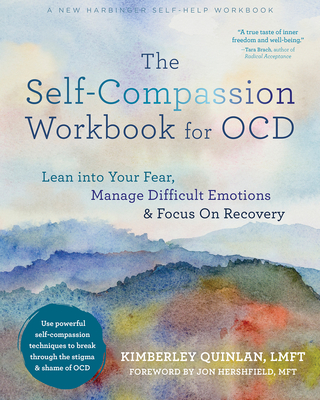 List Price: $24.95
Our Price: $21.21
(Save: $3.74 15%)
Warehouse, In Stock | Usually Ships in 1-5 Days | New
Description
---
A compassionate guide to help you manage OCD symptoms, overcome feelings of shame and stigma, and revitalize your life
If you're one of millions who suffer from obsessive-compulsive disorder (OCD), you're all-too-familiar with feelings of anxiety, panic, shame, and uncertainty. In addition, the stigma associated with OCD can make you feel unworthy of receiving the compassion and kindness you need and deserve. You may even experience unwanted intrusive thoughts that result in harsh self-judgment--which can actually hinder your recovery and lead to additional mental health problems. So, how can you break this destructive cycle and start feeling better?
The Self-Compassion Workbook for OCD outlines a step-by-step program to help you understand the emotional experience of OCD, and develop the tools you need to manage your disorder and build a better life. Drawing on a powerful combination of cognitive behavioral therapy (CBT), exposure and response prevention (ERP), and compassion-focused therapy (CFT), this breakthrough guide will teach you how to balance intense emotions, lean into your fear, and focus on recovery. Over time, you'll learn to replace self-judgment with kindness and self-compassion, so you can stop suffering and start thriving.
Living with OCD can be extremely challenging, but it doesn't have to rob you of your self-worth. You are so much more than your disorder Let this book be your guide to discovering, supporting, and loving the best you that you can be.
About the Author
---
Kimberley Quinlan, LMFT, is a psychotherapist in private practice specializing in the treatment of obsessive-compulsive disorder (OCD) and related disorders. She has been practicing meditation and mindfulness for many years, and has a special interest in the integration of mindfulness and self-compassion principles with cognitive behavioral therapy (CBT) for OCD, anxiety disorders, and eating disorders. Kimberley is host of the Your Anxiety Toolkit podcast, and founder of www.cbtschool.com--an online psychoeducation platform for OCD, anxiety disorders, and body-focused repetitive behaviors (BFRBs). Quinlan is known for her vibrant and mindful approach to mental health issues, and is an expert presenter and support group facilitator for various conferences worldwide. She has been featured in many world-renowned and prestigious media outlets, including the Los Angeles Times, The Wall Street Journal, and The Washington Post; and has consulted on various mental health issues for programs such as ABC's 20/20. Foreword writer Jon Hershfield, MFT, is a psychotherapist specializing in the treatment of obsessive-compulsive disorder (OCD), and is director of The Center for OCD and Anxiety at Sheppard Pratt in Towson, MD. He is author of Overcoming Harm OCD, The OCD Workbook for Teens, and When a Family Member Has OCD, and coauthor of The Mindfulness Workbook for OCD and Everyday Mindfulness for OCD.