Centered: Autism, Basketball, and One Athlete's Dreams (Paperback)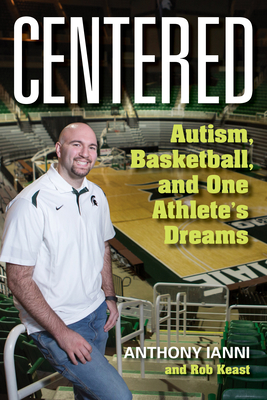 List Price: $20.00
Our Price: $17.00
(Save: $3.00 15%)
Description
---
"They don't know me. They don't know what I'm capable of." Diagnosed with pervasive developmental disorder, a form of autism, as a toddler, Anthony Ianni wasn't expected to succeed in school or participate in sports, but he had other ideas. As a child, Ianni told anybody who would listen, including head coach Tom Izzo, that he would one day play for the Michigan State Spartans.
Centered: Autism, Basketball, and One Athlete's Dreams is the firsthand account of a young man's social, academic, and athletic struggles and his determination to reach his goals. In this remarkable memoir, Ianni reflects on his experiences with both basketball and the autism spectrum. Centered, an inspirational sports story in the vein of Rudy, reveals Ianni to be unflinching in his honesty, generous in his gratitude, and gracious in his compassion.
Sports fans will root for the underdog. Parents, teachers, and coaches will gain insight into the experience of an autistic child. And everyone will triumph in the achievements of Centered.
About the Author
---
Anthony Ianni played basketball at Michigan State University from 2009 to 2012 and was the first Division I college basketball player known to be on the autism spectrum. He now tours the country as a motivational speaker. He lives with his wife and two sons in Livonia, Michigan. Rob Keast grew up in Lapeer, Michigan. He studied journalism at Michigan State University. Rob has written for newspapers in Michigan and Illinois, and he has taught English in Tokyo, Japan. Since 2004, Rob has taught high school English in Wyandotte, Michigan. Rob has a teenage daughter.