Shipwreck in the Early Modern Hispanic World (Campos Ibéricos: Bucknell Studies in Iberian Literatures and Cultures) (Paperback)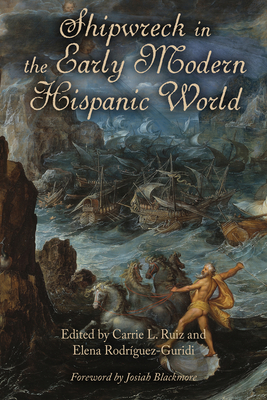 $35.59
This item is backordered and not currently available. Please contact us for an estimated availability date.
Description
---
Seafaring activity for trade and travel was dominant throughout the Spanish Empire, and in the worldview and imagination of its inhabitants, the specter of shipwreck loomed large. Shipwreck in the Early Modern Hispanic World probes this preoccupation by examining portrayals of nautical disasters in sixteenth- and seventeenth-century Spanish literature and culture. The essays collected here showcase shipwreck's symbolic deployment to question colonial expansion and transoceanic trade; to critique the Christian enterprise overseas; to signal the collapse of dominant social order; and to relay moral messages and represent socio-political debates. The contributors find examples in poetry, theater, narrative fiction, and other print artifacts, and approach the topic variously through the lens of historical, literary, and cultural studies. Ultimately demonstrating how shipwrecks both shaped and destabilized perceptions of the Spanish Empire worldwide, this analytically rich volume is the first in Hispanic studies to investigate the darker side of mercantile and imperial expansion through maritime disaster.
About the Author
---
CARRIE L. RUIZ is an associate professor of Spanish at Colorado College in Colorado Springs. She is the co-editor of Transitions: Journal of Franco-Iberian Studies, has published work in several edited collections, including Baroque Projections: Images and Texts in Dialogue with the Early Modern Hispanic Worlds, and in journals such as Letras Peninsulares, Neophilologus, Viator: Medieval and Renaissance Studies, and Western Humanities Review.
 
ELENA RODRÍGUEZ-GURIDI is an associate professor of Spanish at Le Moyne College in Syracuse, New York. She has published several book chapters and articles in various journals, including Hispanic Review, Neophilologus, and eHumanista. She is the author of Exégesis del "error": Una reinterpretación de la praxis de escritura en Libro de la vida, Novelas ejemplares y Desengaños amorosos.
 
Praise For…
---
"This is a timely collection of essays that provides students and scholars of early modernity with new perspectives and insights on the importance of shipwrecks as a major cultural and political event. For all the authors in the volume, a shipwreck is the unavoidable partner of empire and colonial expansion, signaling the perilous path of conquest and at the same time revealing the fissures of the entire imperial enterprise. Going beyond rhetoric, the volume argues for a more comprehensive approach to shipwrecks, defined as significant cultural events that expose not only the precarious nature of imperial expansion and colonial rule, but also issues related to gender, sexuality, identity, and morality."
— Luis Avilés

"Rodríguez-Guridi and Ruiz's Shipwreck in the Early Modern Hispanic World is an excellent example of the rich interdisciplinary orientation that prevails in the field of Early Modern Hispanic Studies, providing fertile ground for in-depth analyses on resistance to Spanish conquest and colonization."
— Raúl Marrero-Fente

"Shipwreck in the Early Modern Hispanic World is perhaps the only English-language collection of essays structured around this central theme or metaphor in recent times. Now that a number of literary critics, cultural studies scholars, and historians are working on maritime matters in the Spanish-speaking world, the chapters of this book offer a distinctive way of looking at topics relevant to these scholars and to early modernists, generally."
— Elizabeth Davis