Dystopias of Infamy: Insult and Collective Identity in Early Modern Spain (Campos Ibéricos: Bucknell Studies in Iberian Literatures and Cultures) (Hardcover)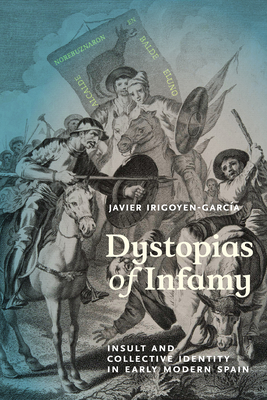 $180.00
This item is backordered and not currently available. Please contact us for an estimated availability date.
Description
---
Insults, scorn, and verbal abuse—frequently deployed to affirm the social identity of the insulter—are destined to fail when that language is appropriated and embraced by the maligned group. In such circumstances, slander may instead empower and reinforce the collective identity of those perceived to be a threat to an idealized society. In this innovative study, Irigoyen-Garcia examines how the discourse and practices of insult and infamy shaped the cultural imagination, anxieties, and fantasies of early modern Spain. Drawing on sixteenth- and seventeenth-century literary works, archival research, religious and political literature, and iconographic documents, Dystopias of Infamy traces how the production of insults haunts the imaginary of power, provoking latent anxieties about individual and collective resistance to subjectification. Of particular note is Cervantes's tendency to parody regulatory fantasies about infamy throughout his work, lampooning repressive law for its paradoxical potential to instigate the very defiance it fears.
About the Author
---
JAVIER IRIGOYEN-GARCÍA is a professor of Spanish at the University of Illinois at Urbana-Champaign. He is the author of The Spanish Arcadia: Sheep Herding, Pastoral Discourse, and Ethnicity in Early Modern Spain and "Moors Dressed as Moors": Clothing, Social Distinction, and Ethnicity in Early Modern Iberia.
Praise For…
---
"Dystopias of Infamy shows convincingly how the discourse and practices of insult shaped the cultural imagination, anxieties, and fantasies of early modern Iberia. The significance of Irigoyen-García's study lies in an innovative approach that reveals infamy's resilience as much as its liabilities, its foreseeable victims as much as its unexpected mutations. Through the recuperation of little-known historical documents and incisive interpretation of well-established texts, this book provides fresh, nuanced insights into the social workings of both the dominant and marginalized in pre-modern Spain."
— Paul Michael Johnson

"Extremely well-researched and well-written, Dystopias of Infamy is bound to be of interest not just to Hispanists, but also to cultural anthropologists and scholars interested in issues of identity formation among both dominant and marginalized groups."
— Anthony J. Cascardi

"Dystopias of Infamy shows convincingly how the discourse and practices of insult shaped the cultural imagination, anxieties, and fantasies of early modern Iberia. The significance of Irigoyen-García's study lies in an innovative approach that reveals infamy's resilience as much as its liabilities, its foreseeable victims as much as its unexpected mutations. Through the recuperation of little-known historical documents and incisive interpretation of well-established texts, this book provides fresh, nuanced insights into the social workings of both the dominant and marginalized in pre-modern Spain."
— Paul Michael Johnson

"Extremely well-researched and well-written, Dystopias of Infamy is bound to be of interest not just to Hispanists, but also to cultural anthropologists and scholars interested in issues of identity formation among both dominant and marginalized groups."
— Anthony J. Cascardi