Though I Am an Inept Villainess: Tale of the Butterfly-Rat Body Swap in the Maiden Court (Manga) Vol. 2 (Though I Am an Inept Villainess: Tale of the Butterfly-Rat Swap in the Maiden Court (Manga) #2) (Paperback)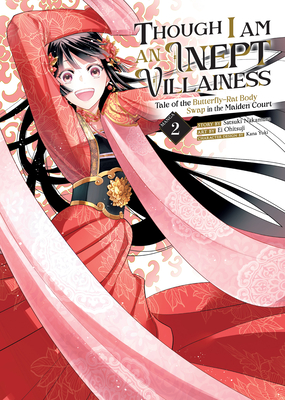 List Price: $14.99
Our Price: $12.74
(Save: $2.25 15%)
Coming Soon - Available for Pre-Order Now
Description
---
DANCE LIKE A BUTTERFLY, FIGHT LIKE…A RAT!

After a rocky start, Reirin and Leelee have no time to lose before they must compose themselves for the Ghost Festival at the Maiden Court. There, Reirin must tread a tight line between the villainess role she's been cast and employing a diplomatic tit-for-tat of her own: confronting Kin Maiden Seika and her menacing court lady Gayou's plots. Keigetsu, meanwhile, is pushed to wits' end by her new body's precarious health–the risk of her plot's discovery rises!
About the Author
---
Satsuki Nakamura is a Japanese writer who has penned multiple series, most notably the Though I Am an Inept Villainess light novels and manga.

Ei Ohitsuji is a Japanese artist who has illustrated multiple manga, including the manga version of Though I Am an Inept Villainess.

Yukikana is a Japanese designer and illustrator who has worked on numerous novels, manga, and games, including Though I Am an Inept Villainess, I'll Never Set Foot in That House Again!, and the mobile game Icchibanketsu -ONLINE-.