Thank You. I'm Sorry. Tell Me More.: How to Change the World with 3 Sacred Sayings (CD-Audio)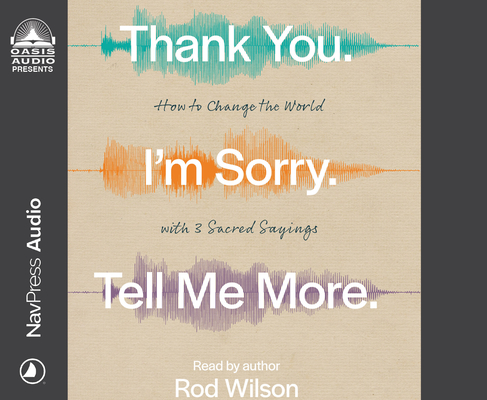 $19.99
This item is backordered and not currently available. Please contact us for an estimated availability date.
Description
---
Practice the three simple phrases that heal relationships, strengthen connection, and change the world.

We all believe that saying, "Thank you," "I'm sorry," and "Tell me more" will help us become better people, friends, partners, employees, neighbors, and global citizens. And yet, having been brought up on rugged individualism, we often slip into self-centeredness and a corresponding sense of entitlement. We have lost the ability to speak with gentleness toward one another. We have replaced kind words that connect us to one another with ones that divide, isolate, and hurt. Everywhere we turn there is deep conflict.

In this simple yet profound book, clinical psychologist Rod Wilson introduces us to the sacredness of these familiar but forgotten sayings. What impact do these sayings have on our relationships?

When we say, "Thank you," we acknowledge the way others impact us.
When we say, "I'm sorry," we acknowledge the way we impact others.
When we say, "Tell me more," we acknowledge the way we impact each other.

Try it. Read this book and be encouraged and equipped to deliver kindness in your speech. As you engage with these three phrases more thoughtfully and speak them more frequently, you will enjoy a life full of deeper friendships and joy.
About the Author
---
Dr. Rod Wilson lives in Vancouver, Canada with his wife, Bev. He was trained in English Literature, Psychology, Counselling, and Theology.
His formative life-long question? What is the relationship between the human and the spiritual? With this question as a backdrop, he notes that people with a high commitment to the human often have little time for the spiritual. Not infrequently, people committed to the spiritual have minimal interest in what it means to be human. He loves spaces where the human and the spiritual are blended seamlessly.
This quest has taken him into various vocational sectors--including education, mental health, the disability community, church, and non-profit--as a teacher, leader, preacher, therapist, mentor, facilitator, and conversation partner. He is grateful that he continues to walk with a metaphorical limp, as he learns and grows in a world which has much to offer.