The Wonder Of Cats Large Print Edition: With Hundreds of Fascinating Feline Facts Waiting Inside To Be Discovered (Large Print / Paperback)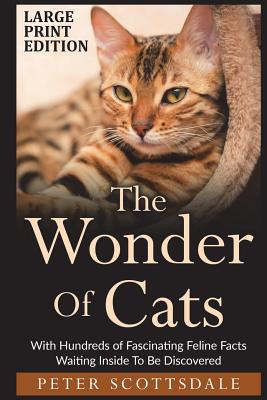 $19.99

Warehouse, In Stock | Usually Ships in 1-5 Days | New
Description
---
LARGE PRINT EDITION
Ever Wonder About Your Cat?
Well, Wonder No More (Okay, maybe a little).
Cats are all at once mysterious and alluring. Many times their actions puzzle and perplex us, leaving us baffled. So, what are our cats all about? What makes up a feline? How do they appeal to us? From young children to those in their golden years, loving kitties has no age limit. We've had cats with us for thousands of years, yet we wonder about them.
In "The Wonder of Cats," Scottsdale provides the cat curious lots of answers regarding these wondrous creatures.
In This Fascinating Book, You Will Discover:
How our wonderful cats affect us
Mysterious cat myths, superstitions and proverbs
Astonishing feline records - like the oldest cat ever
All about the whiskers
Amazing cat stats - like how much we spend on cats
How males guard their territory
The great cat tail - and what it means
Their 6th sense - yes, cats have more sense than we do
The many ways our felines communicate - to us and each other
Surprising facts about breeds - Siamese, Persian, Tabby, Manx and lots more
The incredible parts that make up a cat
How kitties survive high falls - and land on their feet
The hunter in your house
How cats duke it out
A large litter of facts is waiting for you
And much more "
"Look Inside" and if this eye-opening book is for you or someone you know, click the buy button and enjoy.
Makes a Great Gift for Cat Lovers of Any Age.
What Are You Waiting For?
Get Yours Today.
Note: contains previously published material.